Archipelago Monitor Locations

Archipelago (Ark): CAIDA's active measurement infrastructure serving the network research community since 2007.
This page provides an interactive map and listing of Ark monitor locations and individual monitor characteristics. For a listing of other CAIDA active and passive data monitors, see the CAIDA Data Monitors page.
This map shows current active Archipelago (Ark) monitors at their approximate geographical location. The checkbox menus allow the selection of monitors shown based on several characteristics. Note that the locations are displayed at city granularity. When the menu selection leads to multiple monitors in the same city with different characteristics the color white is used for that city.
The protocol menu selects on monitors doing IPv4 measurements only, and monitors doing both IPv4 and IPv6 measurements.
The team menu refers to the team probing methodology used by Ark: monitors are grouped into teams that dynamically divide up the measurement work among team members. This parallelization allows us to obtain a traceroute measurement to all routed /24's in a short period of time. For more details see the Archipelago project page.
The operating system menu selects monitors running FreeBSD (used for the first Ark monitors), and Linux on Raspberry Pi (the current default for new monitors).
The monitor class menu selects monitors based on a classification of the hosting location. We currently differentiate betwee infrastructure network, educational network, research network, commercial network, business and residential deployments.
The table provides additional information: monitors that probe in IPv6 (in addition to IPv4) are marked with a black star (★) in the column with heading 'IPv6'; a red star (★) in the last column (with heading 'ORGANIZATION') indicates that the hardware for the monitor was contributed by the host organization. The column with heading 'RasPi' indicates monitors deployed on a Raspberry Pi. Monitor deployments at residential locations are marked in the column with heading 'Res'. The 'Status' contains a link to an Xively URL with timeseries graphs of several hard- and software properties for the indicated monitors.
Could not load the interactive version of this Google map,
possibly due to browser settings (no javascript) or unsupported browser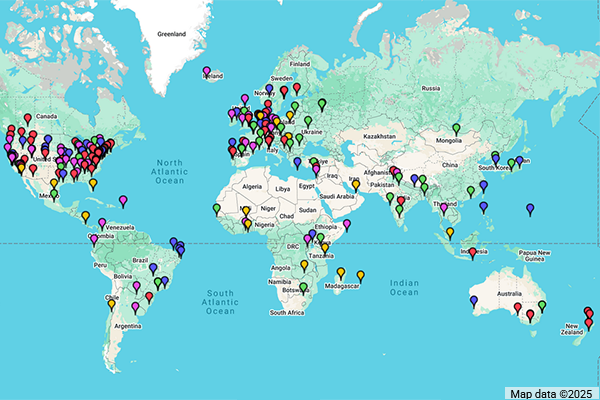 Start Date:
End Date:
| Name | IPv6 | RasPi | Res | Activation Date | City | AS Number | Organization | Status |
| --- | --- | --- | --- | --- | --- | --- | --- | --- |
| san-us | ★ | ★ | | 2007-10-02 | San Diego, CA, US | 1909 | CAIDA | Data |
| bcn-es | ★ | | | 2007-12-17 | Barcelona, ES | 13041 | Universitat Politecnica de Catalunya | Data |
| hkg2-cn | | ★ | | 2015-05-27 | Hong Kong, CN | 4616 | Hong Kong Polytechnic University | Data |
| hkg3-cn | | ★ | ★ | 2015-05-28 | Hong Kong, CN | 9269 | Residential (Hong Kong Broadband Network, HKBN) | Data |
| oak2-us | | ★ | ★ | 2015-05-28 | Berkeley, CA, US | 21928 | Residential (T-mobile 3G) | Data |
| atl-us | | ★ | ★ | 2015-05-28 | Atlanta, GA, US | 31939 | Residential (DirectTV) | Data |
| gai-us | | ★ | ★ | 2015-06-03 | Rockville, MD, US | 7922 | Residential (Comcast) | Data |
| avl-us | | ★ | ★ | 2015-06-04 | Lake Junaluska, NC, US | 20115 | Residential (Charter Business DSL) | Data |
| muc2-de | | ★ | ★ | 2015-06-30 | Munich, DE | 3209 | Residential (Vodafone) | Data |
| psa2-it | | ★ | ★ | 2015-08-12 | Pisa, IT | 12874 | Residential (Fastweb S.p.A.) | Data |
| tul-us | | ★ | | 2015-08-13 | Tulsa, OK, US | 22773 | True Digital Security (Cox Communication) | Data |
| lax3-us | ★ | ★ | | 2015-08-13 | Marina del Rey, CA, US | 4 | Information Sciences Inst., USC | Data |
| yto-ca | ★ | ★ | | 2008-01-14 | Ottawa, ON, CA | 53904 | Canarie | Data |
| psa-it | | ★ | ★ | 2015-08-13 | La Spezia, IT | 12874 | Residential (Telecom Italia) | Data |
| wlg2-nz | | ★ | ★ | 2015-08-13 | Lower Hutt, NZ | 4771 | Residential (Spark DSL) | Data |
| adl-au | ★ | ★ | ★ | 2015-08-15 | Adelaide, AU | 4739 | Residential (Internode) | Data |
| beg-rs | ★ | ★ | | 2015-09-02 | Belgrade, RS | 13004 | Serbian Open eXchange (SOX) | Data |
| aep-ar | | ★ | | 2015-09-02 | Buenos Aires, AR | 3449 | Universidad de Buenos Aires | Data |
| oak3-us | ★ | ★ | ★ | 2015-09-23 | Berkeley, CA, US | 7018 | Residential (ATT U-verse) | Data |
| lpi2-se | | ★ | ★ | 2015-10-22 | Linkoping, SE | 2119 | Residential (Bredbandsbolaget) | Data |
| dar-tz | | ★ | | 2015-10-26 | Dar es Salaam, TZ | 33791 | Tanzania Internet Exchange (TIX) | Data |
| acc-gh | | ★ | | 2015-11-17 | Accra, GH | 30997 | Ghana Internet eXchange (GIX) | Data |
| aal-dk | | ★ | ★ | 2015-11-18 | Aalborg, DK | 197288 | Residential (STOFA) | Data |
| iad-us | ★ | ★ | | 2008-02-05 | Chantilly, VA, US | 10745 | ARIN | Data |
| jnb-za | ★ | ★ | | 2016-03-17 | Johannesburg, ZA | 37474 | Johannesburg Internet Exchange (JINX; IXP-ZA) | Data |
| hla-za | | ★ | ★ | 2016-03-17 | Johannesburg, ZA | 3741 | Residential (Internet Solutions) | Data |
| nbo-ke | | ★ | | 2016-03-18 | Nairobi, KE | 30844 | Kenia IXP (KIXP; Liquid Telecom) | Data |
| los-ng | | ★ | | 2016-03-18 | Lagos, NG | 37148 | IXP of Nigeria (IXPN) | Data |
| oua-bf | | ★ | | 2016-03-18 | Ouagadougou, BF | 25543 | Onatel | Data |
| mnz-us | ★ | ★ | ★ | 2016-03-18 | Manassas, VA, US | 701 | Residential (Verizon Fios) | Data |
| wlg3-nz | ★ | ★ | | 2016-03-18 | Wellington, NZ | 38037 | .nz Registry | Data |
| tij-mx | | ★ | | 2016-03-18 | Tijuana, MX | 174 | Mexican Internet Exchange (MIE) | Data |
| jlp-fr | | ★ | ★ | 2016-03-18 | Juan Les Pins, FR | 12322 | Residential (Free) | Data |
| bbu-ro | | ★ | | 2016-03-19 | Bucharest, RO | 8708 | Medical Express (RCS/RDS)) | Data |
| vie-at | ★ | ★ | | 2008-02-19 | Vienna, AT | 35492 | FunkFeuer | Data |
| coo-bj | | ★ | | 2016-03-28 | Abomey-Calavi, BJ | 28683 | Universite d'Abomey-Calavi | Data |
| tll2-ee | ★ | ★ | ★ | 2016-03-31 | Tallinn, EE | 3249 | Residential (Elion) | Data |
| atl2-us | | ★ | ★ | 2016-04-05 | Tucker, GA, US | 7922 | Residential (Comcast) | Data |
| yyc-ca | ★ | ★ | ★ | 2016-04-05 | Airdrie, AB, CA | 852 | Residential (Telus) | Data |
| tnr-mg | | ★ | | 2016-04-06 | Antananarivo, MG | 37608 | Madagascar IX | Data |
| mad-es | ★ | ★ | | 2016-04-06 | Madrid, ES | 766 | Univ. Carlos III de Madrid (RedIRIS) | Data |
| sin3-sg | ★ | ★ | ★ | 2016-04-12 | Singapore, SG | 4773 | Residential (M1 Net) | Data |
| cmn2-ma | | ★ | ★ | 2016-04-12 | Khouribga, MA | 36903 | Residential (Maroc Telecom) | Data |
| lis-pt | | ★ | ★ | 2016-04-12 | Abrantes, PT | 2860 | Residential (NOS) | Data |
| psa3-it | | ★ | ★ | 2016-05-17 | Pisa, IT | 3269 | Residential (Telecom Italia) | Data |
| cbg-uk | ★ | | | 2008-02-28 | Cambridge, UK | 786 | University of Cambridge | Data |
| mru-mu | | ★ | | 2016-05-17 | Ebene, MU | 327821 | Mauritius IXP (MIXP) | Data |
| kgl2-rw | | ★ | | 2016-05-17 | Kigali, RW | 37228 | Rwanda IXP | Data |
| sdv-il | ★ | ★ | | 2016-05-18 | Ramat Aviv, IL | 378 | Tel Aviv Univ. | Data |
| kgl3-rw | | ★ | ★ | 2016-05-20 | Kigali, RW | 21174 | Residential (Liquid Telecom) | Data |
| sjj-ba | | ★ | ★ | 2016-05-20 | Sarajevo, BA | 9146 | Residential (BH Telecom) | Data |
| krt-sd | ★ | ★ | | 2016-06-21 | Khartoum, SD | 37197 | Sudan Univ. of Science and Technology (SUST) | Data |
| dca-us | ★ | ★ | | 2016-06-21 | Washington, DC, US | 11039 | George Washington Univ. | Data |
| bos4-us | | ★ | | 2016-07-15 | Boston, MA, US | 46887 | MediaSilo | Data |
| mst-nl | ★ | ★ | ★ | 2016-07-25 | Gulpen, NL | 9143 | Residential (Ziggo) | Data |
| iev-ua | ★ | ★ | | 2016-07-25 | Kiev, UA | 21011 | TopNet | Data |
| gig-br | | ★ | | 2008-03-04 | Rio de Janeiro, BR | 1916 | RNP | Data |
| ind-us | | ★ | | 2016-08-26 | Indianapolis, IN, US | 14333 | Mid-West IX | Data |
| avv-au | | ★ | ★ | 2016-09-15 | Hoppers Crossing, AU | 4804 | Residential (Optus Cable) | Data |
| dur-za | ★ | ★ | | 2016-09-23 | Durban, ZA | 37100 | Seacom | Data |
| oua2-bf | | ★ | | 2016-10-05 | Ouagadougou, BF | 37577 | Airtel Mobile | Data |
| dar2-tz | | ★ | | 2016-11-23 | Dar es Salaam, TZ | 37100 | Seacom | Data |
| vko-ru | ★ | ★ | | 2016-11-23 | Moscow, RU | 8331 | the open Net | Data |
| sjo-cr | ★ | ★ | | 2016-11-23 | San Jose, CR | 262149 | Sistemas Fratec | Data |
| yul2-ca | ★ | ★ | | 2016-11-23 | Montreal, QC, CA | 40191 | Zerofail | Data |
| dca2-us | | ★ | ★ | 2016-12-08 | Washington, DC, US | 701 | Residential (Verizon Fios) | Data |
| san6-us | ★ | ★ | ★ | 2017-02-19 | San Diego, CA, US | 7018 | Residential (ATT) | Data |
| hnl-us | ★ | ★ | | 2008-03-04 | Honolulu, HI, US | 6360 | University of Hawaii | Data |
| oak5-us | ★ | ★ | ★ | 2017-03-03 | Oakland, CA, US | 7018 | Residential (ATT U-verse) | Data |
| bri-it | | ★ | | 2017-03-06 | Bari, IT | 41160 | AMT Services | Data |
| san7-us | ★ | ★ | ★ | 2017-03-10 | San Diego, CA, US | 7018 | Residential (ATT) | Data |
| las-us | | ★ | ★ | 2017-03-14 | Las Vegas, NV, US | 209 | Residential (Century Link) | Data |
| okc-us | | ★ | | 2017-03-15 | Oklahoma City, OK, US | 5078 | OneNet Services | Data |
| ory4-fr | ★ | ★ | ★ | 2017-03-15 | Paris, FR | 3215 | Residential (Orange) | Data |
| ory5-fr | ★ | ★ | ★ | 2017-03-19 | Paris, FR | 12322 | Residential (Free) | Data |
| yhu-ca | ★ | ★ | | 2017-03-21 | Longueuil, QC, CA | 1403 | EBOX | Data |
| anr-be | ★ | ★ | | 2017-04-19 | Antwerp, BE | 2611 | Univ. Antwerpen | Data |
| anr2-be | | ★ | | 2017-04-19 | Antwerp, BE | 16276 | Wireless Antwerpen | Data |
| lax-us | ★ | ★ | | 2008-03-03 | Los Angeles, CA, US | 2152 | CENIC | Data |
| bos6-us | | ★ | ★ | 2017-06-05 | Boston, MA, US | 701 | Residential (Verizon) | Data |
| tul3-us | | ★ | ★ | 2017-08-28 | Tulsa, OK, US | 22773 | Residential (Cox) | Data |
| yxu-ca | ★ | ★ | ★ | 2017-11-22 | London, ON, CA | 5645 | Residential (TekSavvy) | Data |
| lke-us | | ★ | ★ | 2017-11-22 | Seattle, WA, US | 7922 | Residential (Comcast) | Data |
| iad2-us | ★ | ★ | ★ | 2017-11-22 | Aldie, VA, US | 7922 | Residential (Comcast)★ | Data |
| sea2-us | ★ | ★ | ★ | 2017-11-22 | Seattle, WA, US | 7922 | Residential (Comcast) | Data |
| lwc2-us | | ★ | ★ | 2017-11-22 | Lawrence, KS, US | 7018 | Residential (ATT)★ | Data |
| msn3-us | ★ | ★ | ★ | 2017-11-22 | Madison, WI, US | 7018 | Residential (ATT) | Data |
| atl3-us | | ★ | ★ | 2017-11-22 | Atlanta, GA, US | 7018 | Residential (ATT) | Data |
| dal-us | | ★ | ★ | 2017-11-23 | Plano, TX, US | 5650 | Residential (Frontier) | Data |
| cmn-ma | | | | 2008-03-04 | Casablanca, MA | 30983 | CNRST | Data |
| rno2-us | | ★ | ★ | 2017-11-23 | Reno, NV, US | 20115 | Residential (Charter) | Data |
| msn2-us | ★ | ★ | ★ | 2017-11-23 | Madison, WI, US | 20115 | Residential (Charter) | Data |
| lun-zm | | ★ | | 2017-11-23 | Lusaka, ZM | 37532 | ZAMREN | Data |
| rdu2-us | ★ | ★ | ★ | 2017-11-23 | Raleigh, NC, US | 7018 | Residential (ATT fiber) | Data |
| rdu-us | ★ | ★ | ★ | 2017-11-23 | Morrisville, NC, US | 16591 | Residential (Google fiber) | Data |
| dtw2-us | ★ | ★ | | 2017-11-27 | Ann Arbor, MI, US | 237 | MERIT | Data |
| lwc-us | ★ | ★ | | 2017-11-27 | Lawrence, KS, US | 2495 | KanREN★ | Data |
| bna-us | | ★ | ★ | 2017-11-27 | Nashville, TN, US | 7922 | Residential (Comcast Business) | Data |
| ory6-fr | ★ | ★ | | 2017-11-27 | Paris, FR | 1307 | Univ. Pierre and Marie Curie | Data |
| ory7-fr | ★ | ★ | ★ | 2017-11-27 | Paris, FR | 8228 | Residential (SFR) | Data |
| zrh-ch | ★ | | | 2008-05-15 | Zurich, CH | 559 | University of Zurich | Data |
| bhd-uk | | ★ | | 2017-11-27 | Belfast, UK | 2856 | Queen's Univ. Belfast | Data |
| prg-cz | ★ | ★ | | 2017-11-27 | Prague, CZ | 25192 | NIC CZ | Data |
| szx-cn | | ★ | ★ | 2017-11-28 | ShenZhen, CN | 4134 | Residential (China Telecom) | Data |
| mvd-uy | ★ | ★ | | 2017-11-28 | Montevideo, UY | 28000 | LACNIC | Data |
| asu-py | ★ | ★ | | 2017-12-01 | San Lorenzo, PY | 27733 | Centro Nacional de Computacion | Data |
| dca3-us | ★ | ★ | ★ | 2017-12-06 | Washington, DC, US | 701 | Residential (Verizon FIOS) | Data |
| kms-gh | | ★ | | 2017-12-08 | Kumasi, GH | 327947 | Kwame Nkrumah Univ. of Science and Technology | Data |
| ytz-ca | | ★ | ★ | 2017-12-13 | Toronto, ON, CA | 5645 | Residential (TekSavvy) | Data |
| los2-ng | ★ | ★ | | 2017-12-14 | Lagos, NG | 37495 | Eko-Konnect | Data |
| jnb2-za | | ★ | ★ | 2017-12-15 | Johannesburg, ZA | 37271 | Residential (Workonline) | Data |
| nrt-jp | | | | 2007-06-29 | Tokyo, JP | 7660 | APAN | Data |
| bwi-us | ★ | | | 2008-06-03 | Aberdeen, MD, US | 668 | US Army Research Lab | Data |
| tlv2-il | | ★ | ★ | 2017-12-19 | Tel Aviv, IL | 50463 | Residential (Triple C) | Data |
| msn4-us | ★ | ★ | | 2017-12-19 | Madison , WI, US | 2381 | WiscNet | Data |
| arb-us | ★ | ★ | ★ | 2017-12-23 | Ann Arbor, MI, US | 7922 | Residential (Comcast) | Data |
| iad3-us | | ★ | ★ | 2018-01-30 | Leesburg, VA, US | 701 | Residential (Verizon FIOS) | Data |
| pbh2-bt | | ★ | | 2018-02-28 | Thimphu, BT | 136039 | Nano | Data |
| dbu-us | ★ | ★ | | 2018-03-06 | Research Triangle Park, NC, US | 81 | NCREN | Data |
| bwy-uk | | ★ | ★ | 2018-03-06 | Ipswich, UK | 2856 | Residential (British Telecom) | Data |
| lwc3-us | ★ | ★ | ★ | 2018-08-14 | Lawrence, KS, US | 7018 | Residential (ATT)★ | Data |
| aep3-ar | ★ | ★ | ★ | 2018-08-15 | Buenos Aires, AR | 10318 | Residential (CableVision) | Data |
| ams-nl | ★ | | | 2008-06-11 | Amsterdam, NL | 1103 | SURFnet | Data |
| tpe-tw | ★ | | | 2008-07-19 | Hsinchu, TW | 7539 | TWAREN | Data |
| yow-ca | ★ | | | 2008-08-19 | Ottawa, ON, CA | 10570 | Ottawa Internet Exchange | Data |
| she-cn | ★ | | | 2008-09-09 | Shenyang, CN | 4538 | Northeastern University | Data |
| scl-cl | | | | 2008-10-31 | Santiago, CL | 27678 | NIC Chile | Data |
| dfw-us | | | | 2008-12-11 | Dallas, TX, US | 1832 | Southern Methodist University | Data |
| pna-es | | | | 2008-11-20 | Pamplona, ES | 766 | Public University of Navarra | Data |
| eug-us | ★ | | | 2008-12-11 | Eugene, OR, US | 3582 | University of Oregon | Data |
| nap-it | | ★ | | 2009-01-27 | Napoli, IT | 137 | University of Napoli | Data |
| hel-fi | ★ | | | 2007-06-29 | Espoo, FI | 1741 | TKK | Data |
| wbu-us | | | | 2009-06-09 | Boulder, CO, US | 194 | NCAR | Data |
| bjc-us | | | | 2009-06-15 | Broomfield, CO, US | 3356 | Level 3 Communications | Data |
| sql-us | ★ | ★ | | 2009-06-19 | Redwood City, CA, US | 1280 | Internet Systems Consortium | Data |
| sea-us | ★ | | | 2009-09-10 | Seattle, WA, US | 73 | University of Washington | Data |
| mty-mx | ★ | | | 2009-11-09 | Monterrey, MX | 22894 | NIC Mexico★ | Data |
| arn-se | ★ | | | 2010-12-15 | Stockholm, SE | 2603 | NORDUnet | Data |
| ams2-nl | ★ | | | 2010-01-20 | Amsterdam, NL | 1200 | AMS-IX | Data |
| sjc2-us | ★ | | | 2010-01-28 | San Jose, CA, US | 6939 | Hurricane Electric★ | Data |
| ord-us | ★ | | | 2010-02-16 | Chicago, IL, US | 20130_54728 | DePaul University | Data |
| dkr-sn | | ★ | | 2010-02-17 | Dakar, SN | 8346 | UCAD | Data |
| dub-ie | ★ | | | 2007-06-29 | Dublin, IE | 1213 | HEANet | Data |
| jfk-us | ★ | | | 2010-04-01 | New York, NY, US | 6939 | Hurricane Electric★ | Data |
| bma-se | ★ | | | 2010-04-12 | Kista, SE | 49770 | Acreo | Data |
| rno-us | | | | 2010-05-06 | Reno, NV, US | 3851 | University of Nevada at Reno | Data |
| cgk-id | ★ | | | 2010-06-23 | Jakarta, ID | 7587 | Indonesian IPv6 Task Force | Data |
| zrh2-ch | ★ | | | 2010-09-30 | Zug, CH | 34288 | Kantonsschule Zug | Data |
| hkg-cn | ★ | | | 2010-10-19 | Hong Kong, CN | 3257 | Tinet | Data |
| osl-no | | ★ | | 2010-10-26 | Lysaker, NO | 224 | Simula Research Laboratory | Data |
| fnl-us | | | | 2010-11-03 | Fort Collins, CO, US | 12145 | Colorado State University | Data |
| sao-br | | | | 2010-11-15 | Sao Paulo, BR | 22548 | Registro.br | Data |
| mel-au | | | | 2011-03-23 | Melbourne, AU | 10148 | University of Melbourne | Data |
| mnl-ph | ★ | ★ | | 2007-06-29 | Quezon City, PH | 9821 | ASTI | Data |
| cdg-fr | | | | 2011-08-25 | Boulogne Billancourt, FR | 30781 | Jaguar Network★ | Data |
| per-au | ★ | | | 2011-09-30 | Perth, AU | 7575 | AARNet★ | Data |
| pek-cn | | | | 2011-11-04 | Beijing, CN | 24151 | CNNIC★ | Data |
| sao2-br | | ★ | | 2012-03-08 | Sao Paulo, BR | 1251 | Rede ANSP / Projeto NARA | Data |
| yyz-ca | ★ | | | 2012-03-14 | Toronto, ON, CA | 11670 | TorIX★ | Data |
| bjl-gm | | | | 2012-04-26 | Serrekunda, GM | 37309 | QCell | Data |
| nrt2-jp | | ★ | ★ | 2012-09-20 | Tokyo, JP | 2497 | Residential (Plala NTT broadband) | Data |
| pry-za | ★ | | | 2012-08-17 | Johannesburg, ZA | 33764 | AFRINIC★ | Data |
| snn-ie | | ★ | | 2012-12-22 | Limerick, IE | 1213 | University of Limerick | Data |
| sin-sg | ★ | ★ | | 2013-01-15 | Singapore, SG | 37989 | DCS1 Pte Ltd | Data |
| cjj-kr | ★ | | | 2007-06-29 | Daejeon, KR | 1237 | KREONet2 | Data |
| san2-us | | ★ | ★ | 2013-01-29 | San Diego, CA, US | 22773 | Residential (Cox Broadband) | Data |
| mry-us | | ★ | ★ | 2013-02-12 | Carmel, CA, US | 7922 | Residential (Comcast Business) | Data |
| oak-us | ★ | ★ | | 2013-02-20 | Berkeley, CA, US | 25 | International Computer Science Institute (ICSI)★ | Data |
| bud2-hu | | ★ | | 2013-03-04 | Budapest, HU | 2012 | Eötvös Loránd University (ELTE) | Data |
| bed-us | | ★ | ★ | 2013-03-07 | Concord, MA, US | 7922 | Residential (Comcast Cable) | Data |
| gva-ch | ★ | ★ | | 2013-05-24 | Geneva, CH | 25091 | IP-Max SA | Data |
| cph-dk | ★ | ★ | | 2013-06-13 | Ballerup, DK | 59469 | Solido Networks ApS | Data |
| san3-us | | ★ | | 2013-06-20 | San Diego, CA, US | 22773 | HB Networks | Data |
| sin2-sg | ★ | ★ | | 2013-06-26 | Singapore, SG | 45494 | Openmirrors.asia - at Equinix SG1 | Data |
| dac-bd | | ★ | | 2013-06-28 | Dhaka, BD | 24122 | BDCOM Online Limited at BD-IX | Data |
| syd-au | ★ | | | 2007-06-29 | Sydney, AU | 7575 | AARNet | Data |
| ktm-np | ★ | ★ | | 2013-07-11 | Kathmandu, NP | 45170 | Nepal Research And Education Network | Data |
| msy-us | | ★ | ★ | 2013-10-17 | New Orleans, LA, US | 22773 | Residential (Cox Broadband) | Data |
| stn-uk | | ★ | ★ | 2013-12-10 | Ipswich, UK | 2856 | Residential (British Telecom) | Data |
| lex-us | | ★ | ★ | 2013-12-11 | Lexington, KY, US | 10796 | Residential (Time Warner Cable) | Data |
| bed2-us | | ★ | ★ | 2013-12-17 | Groton, MA, US | 701 | Residential (Verizon Fios) | Data |
| bed3-us | | ★ | ★ | 2013-12-17 | Lexington, MA, US | 6079 | Residential (RCN) | Data |
| osl2-no | | ★ | ★ | 2014-02-12 | Oslo, NO | 2119 | Residential (Telenor Norge) | Data |
| muc-de | ★ | ★ | | 2014-02-21 | Munich, DE | 12816 | Technical University of Munich | Data |
| ith-us | | ★ | ★ | 2014-02-22 | Ithaca, NY, US | 11351 | Residential (Time Warner Cable) | Data |
| anc-us | ★ | ★ | | 2014-03-14 | Anchorage, AK, US | 8047 | GCI | Data |
| hlz-nz | ★ | | | 2007-11-15 | Hamilton, NZ | 681 | Univ. Waikato | Data |
| kgl-rw | | ★ | | 2014-03-14 | Kigali, RW | 37228 | Carnegie Mellon University in Rwanda | Data |
| ams5-nl | ★ | ★ | | 2014-03-14 | Amsterdam, NL | 6830 | Liberty Global | Data |
| mmx-se | | ★ | ★ | 2014-03-15 | Lund, SE | 8473 | Residential (Bahnhof) | Data |
| bre-de | | ★ | ★ | 2014-03-18 | Bremen, DE | 31334 | Residential (Kabel Deutschland) | Data |
| bre2-de | ★ | ★ | | 2014-03-19 | Bremen, DE | 680 | Jacobs University Bremen | Data |
| mmx2-se | | ★ | | 2014-04-02 | Lund, SE | 47155 | (colo at) ViaEuropa | Data |
| nic-cy | | ★ | | 2014-04-02 | Nicosia, CY | 35432 | Cablenet Communication Systems | Data |
| sju-pr | | ★ | | 2014-04-18 | San Juan, PR | 36423 | Liberty Global (San Juan Cable) | Data |
| sof-bg | ★ | ★ | | 2014-06-04 | Sofia, BG | 34224 | Neterra Ltd | Data |
| sof2-bg | | ★ | | 2014-06-12 | Sofia, BG | 57463 | NetIX | Data |
| lej-de | | | | 2007-11-15 | Leipzig, DE | 680 | Universitat Leipzig | Data |
| yul-ca | | ★ | | 2014-06-13 | Montreal, QC, CA | 5769 | Residential (Videotron) | Data |
| wbu2-us | ★ | ★ | ★ | 2014-06-14 | Boulder, CO, US | 7922 | Residential (Comcast Broadband) | Data |
| scl2-cl | | ★ | | 2014-06-25 | Santiago, CL | 22047 | VTR | Data |
| nce2-fr | | ★ | | 2014-09-17 | Biot, FR | 3215 | Eurocom | Data |
| wvi-us | ★ | ★ | ★ | 2014-09-19 | Santa Cruz, CA, US | 46375 | Residential (Sonic.net) | Data |
| igx2-us | | ★ | ★ | 2014-09-19 | Durham, NC, US | 5650 | Residential (ATT fiber) | Data |
| ylk-ca | ★ | ★ | | 2015-03-18 | Barrie, ON, CA | 19764 | Georgian College | Data |
| aza-us | | ★ | ★ | 2015-05-06 | Gilbert, AZ, US | 209 | Residential (Century Link DSL) | Data |
| bfi-us | ★ | ★ | ★ | 2015-05-27 | Seattle, WA, US | 209 | Residential (Century Link GPON) | Data |
| wlg-nz | ★ | ★ | ★ | 2015-05-27 | Wellington, NZ | 55850 | Residential (TrustPower NZ) | Data |
Archipelago sponsors: