Data Sharing for Public CAIDA Datasets
CAIDA provides public online access to several datasets. Users interested in downloading these data are asked to fill out an optional user-info form, where among other items they provide an email address. The number of submitted user-info forms are used to count the number of users of public CAIDA data. The TLDs in the email addresses are used to obtain the geographic distribution of users of CAIDA public datasets. Because the submission of this form is entirely optional, the counts below represent a lower limit on the number of users.
The first graphs give the number of user-info submissions (with and without valid email addresses) for CAIDA public datasets.
The second graph shows the different TLDs, extracted from the email addresses provided by users that download public data, to get an overview of the type of user (e.g., educational, commercial, government, etc.) and, from country-level TLDs, their geographic distribution.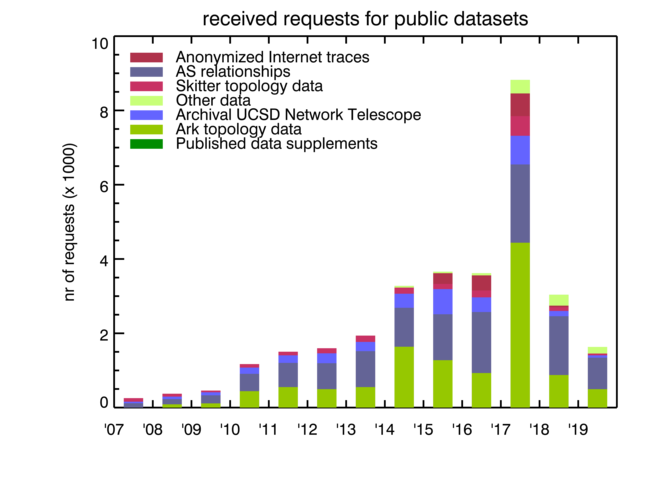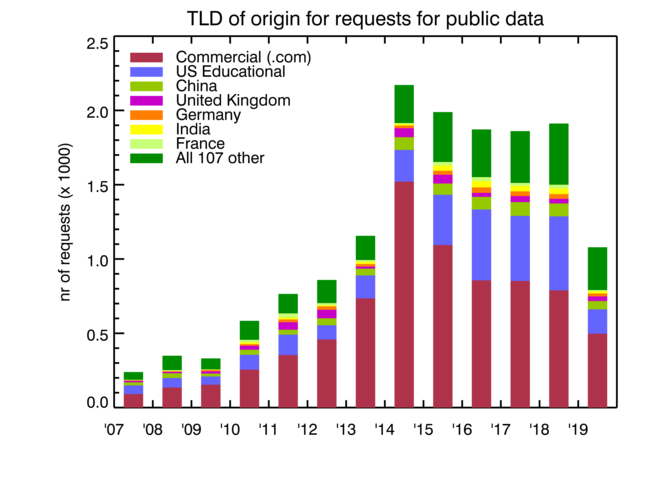 Users of Public CAIDA Datasets
Last updated on 2019-Jul-29 07:03:41 UTC
Total
Jan
Feb
Mar
Apr
May
Jun
Jul
Aug
Sep
Oct
Nov
Dec
2019
1633
248
212
240
278
274
197
184
2018
3038
229
167
293
201
249
228
197
202
215
373
447
237
2017
8821
224
238
432
301
267
225
5752
179
179
209
615
200
2016
3618
313
304
367
322
261
219
231
219
277
350
498
257
2015
3658
327
194
319
382
359
403
264
197
302
338
291
282
2014
3275
150
217
334
401
212
202
294
228
184
265
365
423
2013
1937
129
97
209
195
141
136
193
113
162
227
178
157
2012
1598
82
172
164
186
156
72
103
109
133
173
144
104
2011
1503
146
111
169
117
137
99
158
119
78
117
129
123
2010
1170
42
47
75
169
122
96
107
91
91
80
135
115
2009
458
18
28
32
35
34
42
38
23
55
49
42
62
2008
372
22
31
37
33
16
37
36
22
35
30
38
35
2007
254
0
21
26
41
22
21
21
21
18
25
20
18
Geographical Distribution of Users of Public Data
Last updated on 2019-07-29 07:04:08 UTC
There are 114 TLDs for 31335 requests
16168 requests did not provide a valid email address


Commercial (.com)
7790
Taiwan
41
Lithuania
6
Nigeria
2
US Educational
2793
New Zealand
39
Jordan
5
Niue
2
China
716
Sweden
33
Uruguay
5
Cameroon
2
United Kingdom
431
US Military
29
Egypt
5
Lebanon
2
Germany
251
Pakistan
26
Morocco
5
Bulgaria
1
India
228
Norway
26
United Arab Emirates
5
Burundi
1
France
195
Colombia
26
Iraq
5
Bosnia and Herzegovina
1
Japan
194
Ireland
26
Qatar
5
French Guiana
1
Network (.net)
184
Hungary
25
Serbia
4
Oman
1
Non-Profit Organization
164
Mexico
25
Croatia (Hrvatska)
4
International
1
Australia
151
Finland
25
United States
4
Venezuela
1
Brazil
148
Malaysia
24
Slovak Republic
4
Palestine
1
Netherlands
134
Chile
17
Slovenia
4
Peru
1
Canada
129
Argentina
17
Algeria
4
Macau
1
US Government
106
South Africa
16
Latvia
4
Malawi
1
Italy
105
European Union
15
Romania
3
Montserrat
1
Korea (South)
101
Czech Republic
14
Montenegro
3
Micronesia
1
Singapore
95
Denmark
14
Uganda
3
Cyprus
1
Greece
85
Viet Nam
14
Nepal
3
Kenya
1
Switzerland
66
Indonesia
11
Cocos (Keeling) Islands
3
Kuwait
1
Russia
55
Saudi Arabia
10
Costa Rica
3
Sudan
1
Hong Kong
55
British Indian Ocean Territory
10
USSR (former)
3
Yemen
1
Spain
51
Myanmar (Burma)
9
Catalonia (Spain)
3
Macedonia
1
Belgium
48
Thailand
9
Bangladesh
2
Mayotte
1
Turkey
46
Philippines
8
Reunion
2
Liechtenstein
1
Iran
45
Austria
8
Estonia
2
Tonga
1
Poland
44
Luxembourg
7
Ecuador
2
Iceland
1
Israel
43
Tunisia
6
Malta
2
Portugal
42
Information
6
Ukraine
2