---
Date: February 6 (Sat) - 7 (Sun), 2016
Place: University of California San Diego, San Diego Supercomputer Center, East Building, SDSC Auditorium

Announcement
CAIDA, in cooperation with CSU, USC, UFMG, FORTH, Route Views, RIPE NCC, will host a BGP Hackathon on the 6-7th of February 2016 at UC San Diego (La Jolla, CA, USA). The theme of the hackathon is "live BGP measurements and monitoring."
We will provide participating teams with access to data sources and a toolbox: live streaming of BGP data, the new BGPMon interface, BGP processing tools and APIs such as the opensource BGPStream software framework, the PEERING testbed, RIPE RIS, visualization tools, and data-plane active measurement platforms such as CAIDA Ark and RIPE Atlas. Participating teams will work on "challenges" that extend, integrate and demonstrate the utility of these platforms/data for understanding or solving practical problems (e.g., detecting BGP prefix hijacking, evaluating anycast performance, effectively visualizing phenomena).
The hackathon will be held in San Diego the weekend immediately preceding the NANOG conference and the AIMS academic Internet measurement workshop. The hackathon aims to:
bring together these different communities, e.g., to discuss problems operators face that academics may want to research;
advertise tools (e.g., PEERING peering.usc.edu, BGPStream bgpstream.caida.org) to the communities and get people familiar with using them, and encourage further use in the future;
get people working together on interesting/important problems, hopefully spurring further collaboration on these problems;
provide extra incentive for students to attend NANOG.
Data sources/platforms that we plan to make available to participants include:
CAIDA BGPStream
CAIDA Archipelago (Ark)
USC/UFMG PEERING
RIPE RIS (including experimental live stream service)
RIPE Atlas
CAIDA Looking Glasses API (another new thing, docs coming soon)
Colorado State BGPMon (newer service, now in beta testing)
Route Views, with in addition experimental live data streams through OpenBMP
The platforms will be pre-installed on the new Comet Supercomputer at the San Diego Supercomputer Center. The participants will have an account on the system.
Format
Each team of 2-4 people will work on a "challenge". The organization committee will propose a set of challenges to bootstrap feedback and refinement based on community input: participants can propose totally new challenges, modifications to existing ones, and express their preferences. The set of potential challenges is described at List of Challenges on the Hackathon Wiki, and will continuously evolve in the days preceding the hackathon.
On Saturday morning, participants will very briefly introduce their interests and ideas and teams will be officially formed. On Saturday and Sunday, participants will work together in teams to hack and develop their ideas, culminating in very short presentations to the jury on Sunday evening and a party to announce the winning teams and celebrate everyone's participation. During the event, domain-experts will provide support to the teams.
Participants are free to work on drafted challenges and on their own ideas in the days preceding the hackathon. A mailing list and documentation will provide support on the platforms/tools/data used in the hackathon. However, for the teams to compete in the hackathon for prizes, they will have to demonstrate that substantial work was done during the two-day event.
Food and drinks will be provided throughout the two-day event.
Please note everyone entering the building during the hackathon will need to be registered and pre-approved, and will be required sign a University campus liability waiver on check-in.
Agenda
The agenda is posted on the BGP Hackathon Github Wiki.
Recap
The CAIDA BGP Hackathon was a success. All fifteen teams made significant work on their projects and their results were presented. The results of the BGP Hackathon are posted on the BGP Hackathon Github Wiki, and actual project files and presentation slides are made available at the BGP Hackathon Github page.
The final report of the BGP Hackathon also details the results of the event.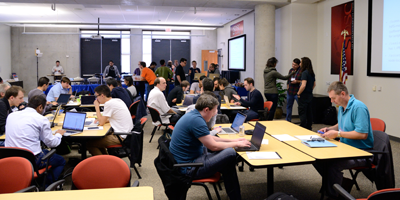 CAIDA BGP Hackathon 2016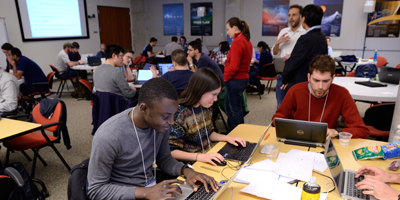 CAIDA BGP Hackathon 2016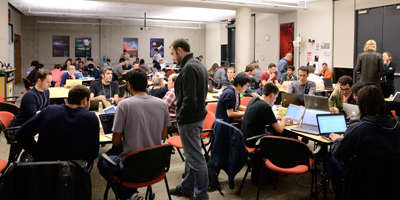 CAIDA BGP Hackathon 2016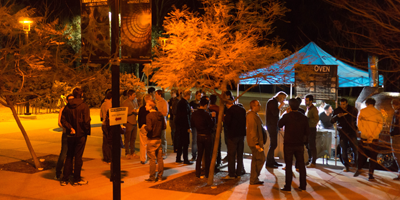 Dinner break at the CAIDA BGP Hackathon 2016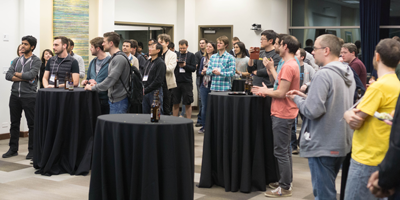 BGP Hackathon Awards Ceremony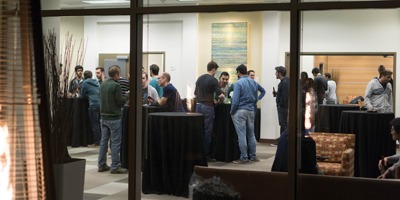 BGP Hackathon Reception
Organizers
CAIDA: Alberto Dainotti, Alistair King
USC: Ethan Katz-Bassett, Brandon Shlinker
DCC/UFMG: Ítalo Cunha
FORTH: Xenofontas Dimitropoulos
Route Views: John Kemp
CSU/BGPMon: Christos Papadopoulos, Spiros Thanasoulas
RIPE-NCC: Robert Kisteleki, Romeo Zwart, Vesna Manojlovic
Sponsors
Google NetOps and
Google Open Source Research Group
Special Thanks

Colorado State University
University of Southern California
University of Waikato
RouteViews
RIPE NCC
Universidade Federal de Minas Gerais
FORTH
---
Travel Grants
While meals will be provided throughout the event to all attendees, a limited number of travel grants will be awarded to applicants who need it for flights and hotels. Financial support to enable this has been generously provided by our sponsors. The deadline to be eligible for a travel grant has passed, and travel grants are no longer available.
Airfare
Travel grants will reimburse actual expenses up to a maximum of $600 for domestic airfare, or $1400 for international airfare. There are specific airfare restrictions in place (most economical fare, American carriers only per the Fly America Act) to qualify for reimbursement.
Other transportation
We are unable to reimburse transportation costs for this hackathon. Attendees are responsible for any expenses from transportation between the airport and their hotel, as well as between their hotel and the hackathon.
Hotels
Travel grants include hotel accomodations that will be reserved and paid for directly by CAIDA. A block of rooms will be at a nearby hotel for a Friday night check-in and a Monday morning check-out. We are unable to provide hotel reimbursements for hotels booked directly by the attendees. We will be pairing up attendees together in a two-bed room. Indicate in the comments of your application or write to CAIDA's bgp-hackathon-info email if you have any preferences or concerns that need addressing.
The hotel block is full. Attendees will have to make their own hotel arrangements.
For those who will make their own hotel arrangements, see the Local Hotels list (PDF). Contact the hotel directly for updated pricing, parking, and shuttle information, and be sure to ask for the UCSD Corporate rate on the phone (not available with online booking). We will not be able to provide travel reimbursement for any hotels.
Local Arrangements / Getting to UC San Diego
The BGP Hackathon is being held in the SDSC East Auditorium (Room B210E/B211E) that faces Hopkins Drive.
(For those GPS-enabled attendees, the GPS coordinates near the SDSC Auditorium is WGS84: 32°53'03.77"N, 117°14'20.31"W)
SDSC entrances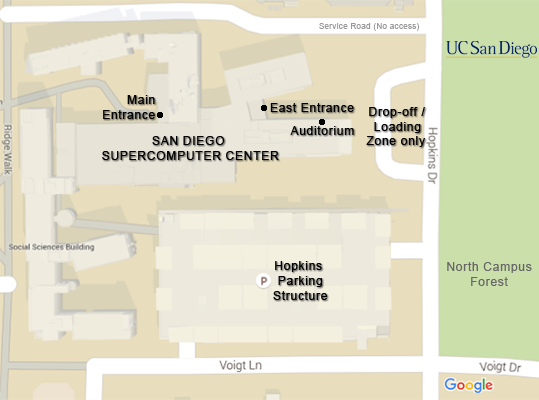 SDSC Auditorium Street View
General driving directions to SDSC are located on the CAIDA Contact and Visitor Info page.
We are unable to reimburse transportation costs for this hackathon. The options below are just for reference.
Transportation options

Taxis: San Diego Taxi Information maintains a list of taxis with rates and additional information. Uber is also well established in San Diego and now has access to service San Diego's airport. GPSes will need to go to the intersection of Hopkins Drive and Voigt Lane. The nearest street address is 9836 Hopkins Drive , La Jolla, CA 92093.
Car: Rental available at the airport near the baggage claim areas of Terminals 1 and 2. To park on campus, see Parking on Campus section, below.

Campus Shuttle

: Campus shuttle will NOT be available during the hackathon.

Parking on campus


The most convenient parking is in the Hopkins parking structure at Hopkins Dr and Voigt Dr, just south of SDSC.

Parking Permits: Parking permits are usually required to park on UC San Diego Campus. Permits are not required for weekend parking in A, B, S, and V spaces.

It is recommended you go to the Hopkins Parking Structure next to SDSC and park on the lower levels. Walk to the street-side of the parking garage (level 2), and along the street to the SDSC East building. The auditorium is on the left just before the stairs, labeled Auditorium or B210E/B211E Meeting Room.
Note that the Main entrance and east entrance will be locked on the weekends, so you will have to approach the auditorium from the street level.
General UCSD Maps and general UCSD Visitor Parking information are useful resources for navigating on campus.