The 8th Workshop on Internet Economics (WIE 2017)
On December 13-14, 2017, CAIDA and the Massachusetts Institute of Technology (MIT) will host the (invitation-only) 8th interdisciplinary Workshop on Internet Economics (WIE) at the University of California San Diego in La Jolla, CA.
The goal of this workshop series is to provide a forum for researchers, commercial Internet facilities and service providers, technologists, economists, theorists, policy makers, and other stakeholders to empirically inform emerging Internet regulatory and policy debates.
Date: Dec 13 (Wed) - 14 (Thu), 2017
Place: Weaver Conference Center, Malamud Room, Institute of the Americas
UC San Diego Campus, La Jolla, CA
Topics of Interest
What do we know about the economics of the Internet ecosystem?

Interconnection, access, cloud, content
Reallocation of revenues along the value network
Limits to advertising-funded growth
Implications of saturation of U.S. wireline broadband market, and possible new models for higher-level services
Policy issues in the sharing economy: airbnb, ride-sharing

What should a new Telecommunications Act look like?

how to identify/regulate potential bottlenecks
monitoring performance of communications markets
addressing market failures, promoting industrial policy goals
spectrum management
public safety
transition

What data is needed in order to understand the state of the Internet and its future trajectory?

privacy constraints and possible legislation
future measurement platform architectures
IoT measurement and transparency of device behavior

New Community Effort: Integrated Platform for Applied Network Data Analysis (PANDA)
Format
As in previous years, the format of this meeting is a series of focused sessions around specific, pre-selected topics. Presenters will prepare short talks (10 minutes) on issues related to the topics.
Not everyone will give a prepared talk, but we expect everyone to participate in the discussions, as well as provide input, writing, and/or feedback on the report we'll publish within shortly after the workshop. Our goal is to produce a public workshop report, but the discussions themselves (and the identity of specific speakers) will be specifically off the record.
Organizing committee
kc claffy (CAIDA/UC San Diego)
David Clark (MIT)
Registration closed
We have reached our target capacity for this workshop. Registration for WIE 2017 is closed, and we will not be accepting any more registrants.
---
December 13 (Wednesday)
08:00 - 09:00 breakfast
09:00 - 10:00 Introductions, Discussion of hot topics, refining agenda
10:00 - 11:45 Background on Internet economics
11:45 - 12:00 Discussion
12:00 - 13:30 lunch
13:30 - 14:15 Talks followed by discussion
14:15 - 15:00 Talks followed by discussion, continued
15:00 - 15:30 break
15:30 - 16:30 Talks followed by discussion, continued
16:30 - 17:30 Open discussion and roundtable: How can (what kind of) measurement help?
18:00 - 20:00 Dinner reception (on site)
December 14 (Thursday)
08:00 - 09:00 breakfast
09:00 - 10:00 Roundtable: What I learned from Day 1

David Clark (MIT/CSAIL) and kc claffy (CAIDA/UCSD)

10:00 - 12:15 Measurement and evidence-based policy
12:00 - 13:00 lunch
13:00 - 13:30 Measurement and evidence-based policy, continued

Walter Johnston (FCC), FCC Spectrum Planning Challenges
Jason Livingood (Comcast), Wish Upon a Data Star: Data I wish I had, data I wish I could share, data I wish people talked about

13:30 - 14:30 Emerging Topics
14:30 - 15:00 final break
Back to PANDA: Discussion of possible efforts
(TBD) Review workshop

What topics do people want to see next year?
Help write report

16:30 Adjourn and fill out exit survey
---
For this workshop, attendees are expected to make their own hotel reservations and transportation arrangements from their hotels to the workshop. For CAIDA's list of local hotels including shuttle availability, see the Local Hotels list (PDF).
This workshop is being held in the Weaver Cemter at the Institute of the Americas on the University of California (UC San Diego) campus.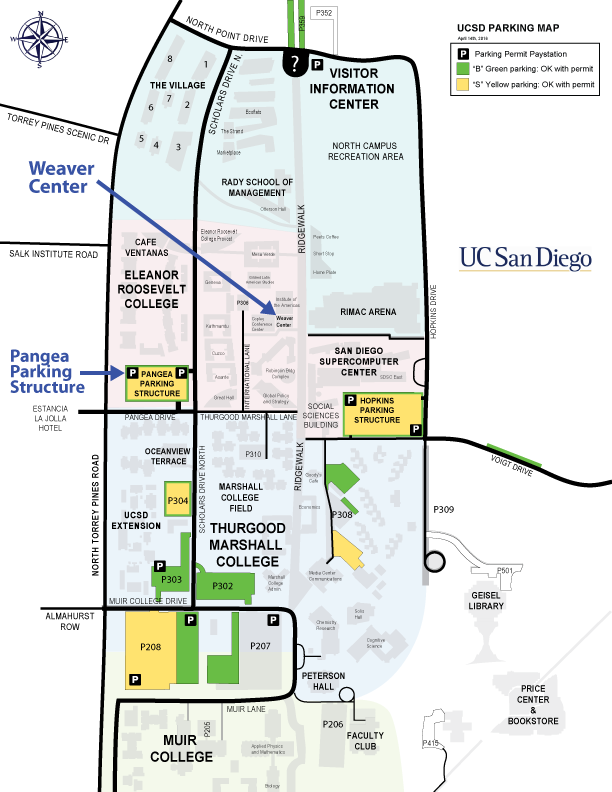 Campus map for WIE workshop
Shuttle to Hotels: SuperShuttle can be arranged to shuttle to UC San Diego campus or your hotel.
Taxis: San Diego Taxi Information maintains a list of taxis with rates and additional information. Uber is also well established in San Diego and now has access to service San Diego's airport. GPSes will need to go to the intersection of Hopkins Drive and Voigt Lane. The nearest street address is 10100 Hopkins Drive, La Jolla, CA 92093.
Car: Rental available at the airport near the baggage claim areas of Terminals 1 and 2. To park on campus, see Parking on Campus section, below.
Meeting Room: The workshop will be held in the Weaver Center, Malamud Room at the Institute of the Americas on the University of California San Diego campus.
Driving into campus


Parking Permits: Parking permits are required to park on UC San Diego Campus. On arrival to campus on the morning of Day 1, check in with a CAIDA staff member waiting in front of the handicap spots on International Lane near the Institute of the Americas plaza. Tell them that you are here for WIE, and we will give you a complimentary parking permit for the day, and then point you to the Pangea Parking Structure for parking. Late arrivals can purchase permits at the paystations in Pangea Parking Structure for $20/day.

Please be sure to read the directions on the parking permit. Parking is limited. The penalty for an improperly parked car is at least $65 per day. We cannot be held responsible for citations issued for parking in an incorrect space or improperly displaying your permit.

A campus map for the WIE workshop shows where the permits will be distributed, the parking structure, and the Weaver Center where the meeting will be held.

Parking permits for Day 2 will be distributed at the end of Day 1, just prior to the reception.
For transportation concerns, general questions and help before the workshop, contact CAIDA at <admin-staff at caida.org> or (858) 534-5109.
General UC San Diego Maps and general UC San Diego Visitor Parking information are useful resources for navigating on campus. (For GPS-enabled attendees, the GPS coordinated of the Weaver Center is WGS84: 32°53'6.30'N, 117°14'28.02'W)