Archipelago Monitor Locations

Archipelago (Ark): CAIDA's active measurement infrastructure serving the network research community since 2007.
This page provides an interactive map and listing of Ark monitor locations and individual monitor characteristics. For a listing of other CAIDA active and passive data monitors, see the CAIDA Data Monitors page.
This map shows current active Archipelago (Ark) monitors at their approximate geographical location. The checkbox menus allow the selection of monitors shown based on several characteristics. Note that the locations are displayed at city granularity. When the menu selection leads to multiple monitors in the same city with different characteristics the color white is used for that city.
The team menu refers to the team probing methodology used by Ark: monitors are grouped into teams that dynamically divide up the measurement work among team members. This parallelization allows us to obtain a traceroute measurement to all routed /24's in a short period of time. For more details see the Archipelago project page.
In the menu the "Hardware" column selects monitors running FreeBSD (used for the first Ark monitors), and Linux on Raspberry Pi (the current default for new monitors).
The "Classification" column selects monitors based on a classification of the hosting location. We currently differentiate betwee infrastructure network, educational network, research network, commercial network, business and residential deployments.
The "Activity" column select monitors based on the research projects that they currently support. Access to the data from "Team-probing", "Prefix-probing", and "IPv6 probing is provided by CAIDA to researchers on request. Congestion and IODA are measurement projects still under development.
The "Status" column divides all monitors into "live" monitors, defined as a monitor that has produced data in the last recent 30 days, and "benched" monitors that have been inactive for more than 30 days.
The table below the map provides additional information: monitors that probe in IPv6 are marked with a black star (★) in the column with heading. 'IPv6'; a red star (★) in the last column (with heading 'ORGANIZATION') indicates that the hardware for the monitor was contributed by the host organization. The column with heading 'RasPi' indicates monitors deployed on a Raspberry Pi. Monitor deployments at residential locations (in increasing fraction of Ark deployments) are marked in the column with heading 'Res'.
Could not load the interactive version of this Google map,
possibly due to browser settings (no javascript) or unsupported browser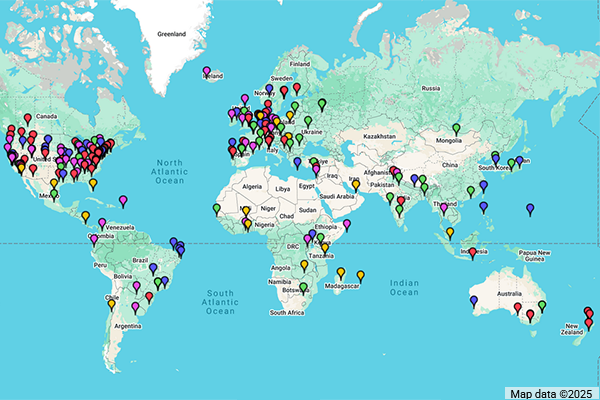 | Name | IPv6 | RasPi | Res | Activation Date | City | AS Number | Org Name | Stats |
| --- | --- | --- | --- | --- | --- | --- | --- | --- |
| san-us | ★ | ★ | | 2007-10-02 | San Diego, CA, US | 1909 | San Diego Supercomputer Center | Data |
| bcn-es | ★ | | | 2007-12-17 | Barcelona, ES | 13041 | Consorci de Serveis Universitaris de Catalunya | Data |
| wlg-nz | ★ | ★ | ★ | 2015-05-27 | Wellington, NZ | 55850 | TrustPower Ltd | |
| hkg2-cn | | ★ | | 2015-05-27 | Hong Kong, CN | | | Data |
| hkg3-cn | | ★ | ★ | 2015-05-28 | Hong Kong, CN | 4760 | PCCW IMS Limited | Data |
| oak2-us | | ★ | ★ | 2015-05-28 | Berkeley, CA, US | | | Data |
| atl-us | | ★ | ★ | 2015-05-28 | Atlanta, GA, US | | | Data |
| ens-nl | | ★ | | 2015-06-02 | Enschede, NL | 1133 | SURFnet bv | |
| gai-us | | ★ | ★ | 2015-06-03 | Rockville, MD, US | | | Data |
| avl-us | | ★ | ★ | 2015-06-04 | Lake Junaluska, NC, US | 20115 | Charter Communications | Data |
| muc2-de | | ★ | ★ | 2015-06-30 | Munich, DE | 3209 | Vodafone GmbH | Data |
| psa2-it | | ★ | ★ | 2015-08-12 | Pisa, IT | | | Data |
| yto-ca | ★ | ★ | | 2008-01-14 | Ottawa, ON, CA | 53904 | Canarie Inc | Data |
| tul-us | | ★ | | 2015-08-13 | Tulsa, OK, US | 22773 | Cox Communications Inc. | Data |
| lax3-us | ★ | ★ | | 2015-08-13 | Marina del Rey, CA, US | 4 | University of Southern California | Data |
| psa-it | | ★ | ★ | 2015-08-13 | La Spezia, IT | 3269 | Telecom Italia S.p.A. | |
| wlg2-nz | | ★ | ★ | 2015-08-13 | Lower Hutt, NZ | 4771 | Spark New Zealand Trading Limited | Data |
| adl-au | ★ | ★ | ★ | 2015-08-15 | Adelaide, AU | 4764 | Wideband Networks Pty Ltd | Data |
| beg-rs | ★ | ★ | | 2015-09-02 | Belgrade, RS | 13004 | Serbian Open Exchange DOO | Data |
| aep-ar | | ★ | | 2015-09-02 | Buenos Aires, AR | 3449 | Universidad Nacional de Buenos Aires | Data |
| bma2-se | | ★ | ★ | 2015-09-23 | Stockholm, SE | | | |
| oak3-us | ★ | ★ | ★ | 2015-09-23 | Berkeley, CA, US | | | Data |
| fdh-de | | ★ | | 2015-10-03 | Konstantz, DE | 553 | Universitaet Stuttgart | Data |
| iad-us | ★ | ★ | | 2008-02-05 | Chantilly, VA, US | 10745 | ARIN Operations | Data |
| lpi2-se | | ★ | ★ | 2015-10-22 | Linkoping, SE | | | Data |
| dar-tz | | ★ | | 2015-10-26 | Dar es Salaam, TZ | 327844 | TISPA - Tanzania Internet Service Providers Association | Data |
| scq-es | | ★ | | 2015-10-30 | Santiago de Compostela, ES | 766 | Entidad Publica Empresarial Red.es | |
| acc-gh | | ★ | | 2015-11-17 | Accra, GH | | | Data |
| aal-dk | | ★ | ★ | 2015-11-18 | Aalborg, DK | 3292 | TDC A/S | Data |
| bos3-us | | ★ | | 2016-03-17 | Boston, MA, US | | | |
| jnb-za | ★ | ★ | | 2016-03-17 | Johannesburg, ZA | 37474 | ISPA SA | Data |
| hla-za | | ★ | ★ | 2016-03-17 | Johannesburg, ZA | 37680 | Cool Ideas Service Provider (Pty) Ltd | Data |
| nbo-ke | | ★ | | 2016-03-18 | Nairobi, KE | | | Data |
| los-ng | | ★ | | 2016-03-18 | Lagos, NG | | | Data |
| vie-at | ★ | ★ | | 2008-02-19 | Vienna, AT | | | Data |
| oua-bf | | ★ | | 2016-03-18 | Ouagadougou, BF | | | Data |
| mnz-us | ★ | ★ | ★ | 2016-03-18 | Manassas, VA, US | 701 | MCI Communications Services, Inc. d/b/a Verizon Business | Data |
| wlg3-nz | ★ | ★ | | 2016-03-18 | Wellington, NZ | 38037 | InternetNZ | Data |
| tij-mx | | ★ | | 2016-03-18 | Tijuana, MX | 395565 | Mexico Internet Exchange | Data |
| jlp-fr | | ★ | ★ | 2016-03-18 | Juan Les Pins, FR | | | Data |
| bbu-ro | | ★ | | 2016-03-19 | Bucharest, RO | 8708 | RCS & RDS SA | Data |
| coo-bj | | ★ | | 2016-03-28 | Abomey-Calavi, BJ | 28683 | Office des Poste et Telecommunications aka Benin Telecoms SA | Data |
| atl2-us | | ★ | ★ | 2016-04-05 | Tucker, GA, US | 7922 | Comcast Cable Communications, LLC | Data |
| yyc-ca | ★ | ★ | ★ | 2016-04-05 | Airdrie, AB, CA | 852 | TELUS Communications Inc. | Data |
| tnr-mg | | ★ | | 2016-04-06 | Antananarivo, MG | 37054 | TELMA Global Net | Data |
| cbg-uk | ★ | | | 2008-02-28 | Cambridge, UK | 786 | Jisc Services Limited | Data |
| mad-es | | ★ | ★ | 2019-01-23 | Madrid, ES | 12479 | Orange Espagne SA | Data |
| sin3-sg | ★ | ★ | ★ | 2016-04-12 | Singapore, SG | | | Data |
| cmn2-ma | | ★ | ★ | 2016-04-12 | Khouribga, MA | | | Data |
| lis-pt | ★ | ★ | ★ | 2016-04-12 | Abrantes, PT | 12353 | Vodafone Portugal - Communicacoes Pessoais S.A. | Data |
| agb-de | | ★ | | 2016-04-13 | Augsburg, DE | 680 | Verein zur Foerderung eines Deutschen Forschungsnetzes e.V. | Data |
| ham-de | | ★ | | 2016-04-13 | Hamburg, DE | 680 | Verein zur Foerderung eines Deutschen Forschungsnetzes e.V. | |
| txl-de | | ★ | | 2016-04-13 | Berlin, DE | 680 | Verein zur Foerderung eines Deutschen Forschungsnetzes e.V. | |
| zrh5-ch | | ★ | | 2016-04-13 | Wintherthur, CH | | | |
| trn-it | | ★ | | 2016-04-14 | Turin, IT | 137 | Consortium GARR | Data |
| psa3-it | | ★ | ★ | 2016-05-17 | Pisa, IT | | | Data |
| gig-br | | ★ | | 2008-03-04 | Rio de Janeiro, BR | 1916 | Associação Rede Nacional de Ensino e Pesquisa | Data |
| mru-mu | | ★ | | 2016-05-17 | Ebene, MU | 327821 | Mauritius Internet Exchange Point | Data |
| kgl2-rw | | ★ | | 2016-05-17 | Kigali, RW | 328014 | Rwanda Internet Exchange Point (RINEX) c/o RICTA | Data |
| sdv-il | ★ | ★ | | 2016-05-18 | Ramat Aviv, IL | 378 | IUCC - Israel InterUniversity Computation Center | Data |
| kgl3-rw | | ★ | ★ | 2016-05-20 | Kigali, RW | | | Data |
| sjj-ba | | ★ | ★ | 2016-05-20 | Sarajevo, BA | 9146 | BH Telecom d.d. Sarajevo | Data |
| san4-us | | ★ | ★ | 2016-06-03 | San Diego, CA, US | 20001 | Charter Communications Inc | |
| osl3-no | | ★ | ★ | 2016-06-06 | Oslo, NO | | | |
| krt-sd | | ★ | | 2016-06-21 | Khartoum, SD | | | Data |
| dca-us | ★ | ★ | | 2016-06-21 | Washington, DC, US | 11039 | The George Washington University | Data |
| bos4-us | | ★ | | 2016-07-15 | Boston, MA, US | 63125 | Wicked Bandwidth, Inc | Data |
| hnl-us | ★ | ★ | | 2008-03-04 | Honolulu, HI, US | 6360 | University of Hawaii | Data |
| mst-nl | ★ | ★ | ★ | 2016-07-25 | Gulpen, NL | 33915 | Vodafone Libertel B.V. | Data |
| iev-ua | ★ | ★ | | 2016-07-25 | Kiev, UA | 3326 | PRIVATE JOINT STOCK COMPANY "DATAGROUP" | Data |
| ory3-fr | | ★ | | 2016-08-17 | Paris, FR | | | |
| syd2-au | | ★ | | 2016-08-17 | Sydney, AU | 23719 | AARNet | |
| ind-us | | ★ | | 2016-08-26 | Indianapolis, IN, US | 14333 | On-Ramp Indiana, Inc. | Data |
| hlz2-nz | | ★ | | 2016-09-13 | Hamilton, NZ | 681 | The University of Waikato | |
| per2-au | | ★ | | 2016-09-13 | Perth, AU | 7575 | AARNet | |
| akl-nz | | ★ | | 2016-09-13 | Auckland, NZ | 9503 | CallPlus Services Limited | |
| hel2-fi | | ★ | ★ | 2016-09-15 | Espoo, FI | | | |
| avv-au | | ★ | ★ | 2016-09-15 | Hoppers Crossing, AU | | | Data |
| lax-us | ★ | ★ | | 2008-03-03 | Los Angeles, CA, US | | | Data |
| dur-za | ★ | ★ | | 2016-09-23 | Durban, ZA | 37100 | SEACOM Limited | Data |
| oua2-bf | | ★ | | 2016-10-05 | Ouagadougou, BF | 37577 | Orange Burkina Faso | Data |
| san5-us | | ★ | ★ | 2016-11-08 | San Diego, CA, US | 22773 | Cox Communications Inc. | |
| sfo-us | | ★ | | 2016-11-22 | San Francisco, CA, US | | | |
| ams7-nl | | ★ | | 2016-11-22 | Amsterdam, NL | | | |
| mdw-us | | ★ | | 2016-11-22 | Chicago, IL, US | 6200 | University of Illinois at Chicago | Data |
| phl-us | | ★ | | 2016-11-22 | Philadelphia, PA, US | | | |
| dar2-tz | | ★ | | 2016-11-23 | Dar es Salaam, TZ | 37100 | SEACOM Limited | Data |
| vko-ru | ★ | ★ | | 2016-11-23 | Moscow, RU | 8331 | Cronyx Plus Ltd. | Data |
| sjo-cr | ★ | ★ | | 2016-11-23 | San Jose, CR | 262149 | Sistemas Fratec S.A. | Data |
| cmn-ma | | | | 2008-03-04 | Casablanca, MA | | | Data |
| yul2-ca | ★ | ★ | | 2016-11-23 | Montreal, QC, CA | 40191 | ZEROFAIL | Data |
| aep2-ar | | ★ | | 2016-11-25 | Buenos Aires, AR | | | |
| phl2-us | | ★ | | 2016-11-29 | Philadelphia, PA, US | | | |
| msn-us | | ★ | | 2016-11-30 | Madison, WI, US | | | |
| phl3-us | | ★ | ★ | 2016-12-01 | Philadelphia, PA, US | 15576 | NTS workspace AG | Data |
| dca2-us | | ★ | ★ | 2016-12-08 | Washington, DC, US | | | Data |
| oak4-us | | ★ | | 2016-12-09 | Berkeley, CA, US | 25 | University of California at Berkeley | |
| san6-us | ★ | ★ | ★ | 2017-02-19 | San Diego, CA, US | | | Data |
| oak5-us | | ★ | ★ | 2017-03-03 | Oakland, CA, US | 7018 | AT&T Services, Inc. | Data |
| bri-it | | ★ | | 2017-03-06 | Bari, IT | 41160 | Amt Services srl | Data |
| zrh-ch | ★ | | | 2008-05-15 | Zurich, CH | 559 | SWITCH | Data |
| hnd-jp | | ★ | | 2017-03-09 | Tokyo, JP | 2500 | WIDE Project | |
| bwi2-us | | ★ | | 2017-03-09 | College Park, MD, US | | | |
| san7-us | ★ | ★ | ★ | 2017-03-10 | San Diego, CA, US | 7018 | AT&T Services, Inc. | Data |
| las-us | | ★ | ★ | 2017-03-14 | Las Vegas, NV, US | 209 | CenturyLink Communications, LLC | Data |
| okc-us | | ★ | | 2017-03-15 | Oklahoma City, OK, US | 5078 | Oklahoma Network for Education Enrichment and | Data |
| ory4-fr | ★ | ★ | ★ | 2017-03-15 | Paris, FR | 3215 | Orange S.A. | Data |
| ory5-fr | ★ | ★ | ★ | 2017-03-19 | Paris, FR | 3215 | Orange S.A. | Data |
| yhu-ca | ★ | ★ | | 2017-03-21 | Longueuil, QC, CA | 1403 | EBOX | Data |
| anr-be | ★ | ★ | | 2017-04-19 | Antwerp, BE | 2611 | BELNET | Data |
| anr2-be | | ★ | | 2017-04-19 | Antwerp, BE | 16276 | OVH SAS | Data |
| nrt-jp | | | | 2007-06-29 | Tokyo, JP | 7660 | Asia Pacific Advanced Network - Japan | Data |
| bwi-us | | | | 2008-06-03 | Aberdeen, MD, US | 13 | Headquarters, USAISC | Data |
| bos6-us | | ★ | ★ | 2017-06-05 | Boston, MA, US | | | Data |
| tul3-us | | ★ | ★ | 2017-08-28 | Tulsa, OK, US | 22773 | Cox Communications Inc. | Data |
| nrt3-jp | | ★ | | 2017-10-19 | Tokyo, JP | 2497 | Internet Initiative Japan Inc. | Data |
| tlv-il | | ★ | | 2017-10-23 | Tel Aviv, IL | 378 | IUCC - Israel InterUniversity Computation Center | Data |
| dub2-ie | | ★ | | 2017-10-25 | Dublin, IE | 1213 | HEAnet Limited | |
| lcy2-uk | | ★ | | 2017-10-26 | London, UK | 786 | Jisc Services Limited | |
| fyv-us | | ★ | | 2017-11-21 | Fayetteville, AR, US | 40581 | Arkansas Research and Education Optical Network | |
| lcy-uk | | ★ | | 2017-11-22 | London, UK | 198864 | Queen Mary and Westfield College, University of London | Data |
| cgs-us | | ★ | | 2017-11-22 | College Park, MD, US | 6059 | University of Maryland | |
| bud3-hu | | ★ | | 2017-11-22 | Budapest, HU | 2547 | BME | |
| ams-nl | ★ | | | 2008-06-11 | Amsterdam, NL | 1103 | SURFnet bv | Data |
| bdl-us | | ★ | | 2017-11-22 | Hartford, CT, US | | | |
| yxu-ca | ★ | ★ | ★ | 2017-11-22 | London, ON, CA | 5645 | TekSavvy Solutions, Inc. | Data |
| lke-us | ★ | ★ | ★ | 2017-11-22 | Seattle, WA, US | 7922 | Comcast Cable Communications, LLC | Data |
| iad2-us | ★ | ★ | ★ | 2017-11-22 ★ | Aldie, VA, US | | | Data |
| sea2-us | ★ | ★ | ★ | 2017-11-22 | Seattle, WA, US | 7922 | Comcast Cable Communications, LLC | Data |
| lwc2-us | ★ | ★ | ★ | 2017-11-22 ★ | Lawrence, KS, US | 7018 | AT&T Services, Inc. | Data |
| msn3-us | ★ | ★ | ★ | 2017-11-22 | Madison, WI, US | 7018 | AT&T Services, Inc. | Data |
| atl3-us | | ★ | ★ | 2017-11-22 | Atlanta, GA, US | 7018 | AT&T Services, Inc. | Data |
| dal-us | | ★ | ★ | 2017-11-23 | Plano, TX, US | 5650 | Frontier Communications of America, Inc. | Data |
| rno2-us | | ★ | ★ | 2017-11-23 | Reno, NV, US | 20115 | Charter Communications | Data |
| tpe-tw | | | | 2008-07-19 | Hsinchu, TW | | | Data |
| msn2-us | ★ | ★ | ★ | 2017-11-23 | Madison, WI, US | | | Data |
| lun-zm | | ★ | | 2017-11-23 | Lusaka, ZM | 37532 | Zambia Research and Education Network (ZAMREN) | Data |
| rdu2-us | ★ | ★ | ★ | 2017-11-23 | Raleigh, NC, US | | | Data |
| rdu-us | ★ | ★ | ★ | 2017-11-23 | Morrisville, NC, US | 16591 | Google Fiber Inc. | Data |
| dtw2-us | ★ | ★ | | 2017-11-27 | Ann Arbor, MI, US | 237 | Merit Network Inc. | Data |
| lwc-us | ★ | ★ | | 2017-11-27 ★ | Lawrence, KS, US | | | Data |
| bna-us | | ★ | ★ | 2017-11-27 | Nashville, TN, US | | | Data |
| ory6-fr | ★ | ★ | | 2017-11-27 | Paris, FR | 1307 | Renater | Data |
| ory7-fr | ★ | ★ | ★ | 2017-11-27 | Paris, FR | | | Data |
| bhd-uk | | ★ | | 2017-11-27 | Belfast, UK | 2856 | British Telecommunications PLC | Data |
| yow-ca | ★ | | | 2008-08-19 | Ottawa, ON, CA | | | Data |
| prg-cz | ★ | ★ | | 2017-11-27 | Prague, CZ | 25192 | CZ.NIC, z.s.p.o. | Data |
| szx-cn | | ★ | ★ | 2017-11-28 | ShenZhen, CN | | | Data |
| mvd-uy | ★ | ★ | | 2017-11-28 | Montevideo, UY | | | Data |
| btr-us | | ★ | | 2017-11-28 | Baton Rouge, LA, US | | | |
| asu-py | | ★ | | 2017-12-01 | San Lorenzo, PY | | | Data |
| dca3-us | ★ | ★ | ★ | 2017-12-06 | Washington, DC, US | 701 | MCI Communications Services, Inc. d/b/a Verizon Business | Data |
| kms-gh | | ★ | | 2017-12-08 | Kumasi, GH | | | Data |
| ytz-ca | | ★ | ★ | 2017-12-13 | Toronto, ON, CA | 577 | Bell Canada | Data |
| los2-ng | ★ | ★ | | 2017-12-14 | Lagos, NG | 37495 | Eko-Konnect Research and Education Initiative | Data |
| jnb2-za | | ★ | ★ | 2017-12-15 | Johannesburg, ZA | | | Data |
| she-cn | ★ | | | 2008-09-09 | Shenyang, CN | | | Data |
| tlv3-il | | ★ | ★ | 2017-12-19 | Tel Aviv, IL | 9116 | B Communications Ltd | Data |
| msn4-us | ★ | ★ | | 2017-12-19 | Madison , WI, US | 2381 | WiscNet | Data |
| arb-us | ★ | ★ | ★ | 2017-12-23 | Ann Arbor, MI, US | | | Data |
| iad3-us | | ★ | ★ | 2018-01-30 | Leesburg, VA, US | 701 | MCI Communications Services, Inc. d/b/a Verizon Business | Data |
| pbh2-bt | | ★ | | 2018-02-28 | Thimphu, BT | 136039 | NANO | Data |
| dbu-us | ★ | ★ | | 2018-03-06 | Research Triangle Park, NC, US | 81 | MCNC | Data |
| bwy-uk | | ★ | ★ | 2018-03-06 | Ipswich, UK | 2856 | British Telecommunications PLC | Data |
| lwc3-us | ★ | ★ | ★ | 2018-08-14 ★ | Lawrence, KS, US | 7018 | AT&T Services, Inc. | Data |
| aep3-ar | | ★ | ★ | 2018-08-15 | Buenos Aires, AR | 10318 | Telecom Argentina S.A. | Data |
| mhg-de | ★ | ★ | ★ | 2019-03-04 | Heidelberg, DE | 8881 | 1&1 Versatel Deutschland GmbH | Data |
| her-gr | ★ | | | 2008-11-04 | Heraklion, Crete, GR | | | Data |
| psa4-it | ★ | ★ | | 2019-04-18 | Pisa, IT | 137 | Consortium GARR | Data |
| ccs2-ve | | ★ | | 2019-01-26 | Caracas, VE | | | |
| bwi3-us | | ★ | ★ | 2018-10-02 | Ellicott City, MD, US | 7922 | Comcast Cable Communications, LLC | |
| abz2-uk | ★ | ★ | | 2019-05-09 | Aberdeen, UK | 786 | Jisc Services Limited | Data |
| poa-br | | ★ | ★ | 2019-01-22 | Porte Alegre, BR | 28573 | CLARO S.A. | Data |
| cgh-br | | ★ | | 2019-01-22 | Sao Paulo, BR | 37468 | Angola Cables | Data |
| bcn2-es | | ★ | ★ | 2019-04-18 | Barcelona, ES | 12357 | VODAFONE ESPANA S.A.U. | Data |
| cld3-us | ★ | ★ | ★ | 2018-10-30 ★ | San Diego, CA, US | 20001 | Charter Communications Inc | Data |
| pvu-us | | ★ | ★ | 2019-05-24 | Springville, UT, US | | | |
| avl2-us | | ★ | ★ | 2019-05-24 | Highlands, NC, US | | | |
| scl-cl | | | | 2008-10-31 | Santiago, CL | 27678 | NIC Chile | Data |
| abz-uk | | ★ | ★ | 2018-10-08 | Aberdeen, UK | 6871 | British Telecommunications PLC | Data |
| bfh-br | ★ | ★ | | 2019-05-03 | Curitiba, BR | 262318 | Horizons Telecomunicações e Tecnologia Ltda | Data |
| zrh4-ch | | ★ | | 2019-05-11 | Zurich, CH | 559 | SWITCH | Data |
| zrh3-ch | | ★ | ★ | 2019-05-12 | Zurich, CH | 61174 | Glattwerk AG | Data |
| gla-uk | | ★ | ★ | 2019-05-21 | Glasgow, UK | 5089 | Virgin Media Limited | |
| pnq-in | | ★ | ★ | 2019-05-24 | Pune, IN | | | |
| ams4-nl | | ★ | ★ | 2019-05-24 | Linschoten, NL | | | |
| p998-yy | | ★ | ★ | 2019-05-24 | Linschoten, NL | | | |
| sts-us | | ★ | | 2019-05-24 | Berkeley, CA, US | | | |
| jrs-il | | ★ | | 2019-05-24 | Berkeley, CA, US | | | |
| dfw-us | | | | 2008-12-11 | Dallas, TX, US | | | Data |
| mex-mx | | ★ | | 2019-05-24 | Somewhere | | | |
| p196-ar | | ★ | | 2019-05-24 | San Diego, CA, US | | | |
| gye-ec | | ★ | | 2019-05-24 | Guayaquil, EC | | | |
| p198-ar | | ★ | | 2019-05-24 | San Diego, CA, US | | | |
| pao2-us | | ★ | | 2019-05-24 | Sunnyvale, CA, US | | | |
| smf-us | | ★ | | 2019-05-24 | San Diego, CA, US | | | |
| mel2-au | | ★ | | 2019-05-24 | San Diego, CA, US | | | |
| ccs-ve | | ★ | | 2019-05-24 | Caracas, VE | | | |
| dca4-us | | ★ | ★ | 2019-05-24 | Alexandria, VA, US | | | |
| lwg-uk | | ★ | | 2019-05-24 | London, UK | | | |
| pna-es | | | | 2008-11-20 | Pamplona, ES | 766 | Entidad Publica Empresarial Red.es | Data |
| poa2-br | | ★ | ★ | 2019-05-24 | Porte Alegre, BR | | | |
| eug-us | | | | 2008-12-11 | Eugene, OR, US | 3582 | University of Oregon | Data |
| hel-fi | ★ | | | 2007-06-29 | Espoo, FI | 1741 | CSC - Tieteen tietotekniikan keskus Oy | Data |
| nap-it | | ★ | | 2009-01-27 | Napoli, IT | | | |
| wbu-us | | ★ | | 2009-06-09 | Boulder, CO, US | 194 | University Corporation for Atmospheric Research | Data |
| bjc-us | | | | 2009-06-15 | Broomfield, CO, US | | | Data |
| sql-us | ★ | ★ | | 2009-06-19 | Redwood City, CA, US | 1280 | Internet Systems Consortium, Inc. | Data |
| sea-us | ★ | | | 2009-09-10 | Seattle, WA, US | 73 | University of Washington | Data |
| mty-mx | | | | 2009-11-09 ★ | Monterrey, MX | 22894 | Network Information Center México S.C. | Data |
| arn-se | ★ | ★ | | 2010-12-15 | Stockholm, SE | 2603 | NORDUnet | Data |
| ams2-nl | ★ | | | 2010-01-20 | Amsterdam, NL | 1200 | Amsterdam Internet Exchange B.V. | Data |
| sjc2-us | ★ | | | 2010-01-28 ★ | San Jose, CA, US | | | Data |
| ord-us | ★ | ★ | | 2010-02-16 | Chicago, IL, US | 20130 | Depaul University | Data |
| dub-ie | ★ | | | 2007-06-29 | Dublin, IE | 1213 | HEAnet Limited | Data |
| dkr-sn | | ★ | | 2010-02-17 | Dakar, SN | | | Data |
| rno-us | | ★ | | 2010-05-06 | Reno, NV, US | 3851 | Nevada System of Higher Education | Data |
| cgk-id | ★ | | | 2010-06-23 | Jakarta, ID | | | Data |
| zrh2-ch | ★ | | | 2010-09-30 | Zug, CH | 34288 | Kantonsschule Zug | Data |
| hkg-cn | ★ | | | 2010-10-19 | Hong Kong, CN | 3257 | GTT Communications Inc. | Data |
| osl-no | | ★ | | 2010-10-26 | Lysaker, NO | 224 | UNINETT AS | Data |
| fnl-us | | | | 2010-11-03 | Fort Collins, CO, US | | | Data |
| sao-br | | | | 2010-11-15 | Sao Paulo, BR | 22548 | Núcleo de Inf. e Coord. do Ponto BR - NIC.BR | Data |
| cdg-fr | | | | 2011-08-25 ★ | Boulogne Billancourt, FR | 30781 | Jaguar Network SAS | Data |
| per-au | ★ | | | 2011-09-30 ★ | Perth, AU | 7575 | AARNet | Data |
| mnl-ph | | ★ | | 2007-06-29 | Quezon City, PH | | | Data |
| pek-cn | | | | 2011-11-04 ★ | Beijing, CN | | | Data |
| sao2-br | | ★ | | 2012-03-08 | Sao Paulo, BR | 1251 | FUNDAÇÃO DE AMPARO À PESQUISA DO ESTADO SÃO PAULO | Data |
| yyz-ca | ★ | | | 2012-03-14 ★ | Toronto, ON, CA | 393424 | Toronto Internet Exchange Community | Data |
| bjl-gm | | | | 2012-04-26 | Serrekunda, GM | 37309 | QCell Limited | Data |
| nrt2-jp | | ★ | ★ | 2012-09-20 | Tokyo, JP | | | Data |
| pry-za | ★ | ★ | | 2012-08-17 ★ | Johannesburg, ZA | 33764 | African Network Information Center - ( AfriNIC Ltd. ) | Data |
| snn-ie | | ★ | | 2012-12-22 | Limerick, IE | 1213 | HEAnet Limited | Data |
| sin-sg | ★ | ★ | | 2013-01-15 | Singapore, SG | | | Data |
| san2-us | | ★ | ★ | 2013-01-29 | San Diego, CA, US | 22773 | Cox Communications Inc. | Data |
| mry-us | | ★ | ★ | 2013-02-12 | Carmel, CA, US | 7922 | Comcast Cable Communications, LLC | Data |
| cjj-kr | ★ | | | 2007-06-29 | Daejeon, KR | 1237 | KISTI | Data |
| oak-us | ★ | ★ | | 2013-02-20 ★ | Berkeley, CA, US | | | Data |
| ams3-nl | | ★ | | 2013-02-20 | Amsterdam, NL | | | |
| bud2-hu | | ★ | | 2013-03-04 | Budapest, HU | | | Data |
| bed-us | | ★ | ★ | 2013-03-07 | Concord, MA, US | 7922 | Comcast Cable Communications, LLC | Data |
| gva-ch | ★ | ★ | | 2013-05-24 | Geneva, CH | | | Data |
| cph-dk | ★ | ★ | | 2013-06-13 | Ballerup, DK | 59469 | Solido Networks ApS | Data |
| san3-us | | ★ | | 2013-06-20 | San Diego, CA, US | 22773 | Cox Communications Inc. | Data |
| sin2-sg | ★ | ★ | | 2013-06-26 | Singapore, SG | 45494 | Nepal R&E Network | Data |
| dac-bd | | ★ | | 2013-06-28 | Dhaka, BD | 24122 | BDCOM Online Limited | Data |
| ktm-np | ★ | ★ | | 2013-07-11 | Kathmandu, NP | 45170 | Nepal R&E Network | Data |
| syd-au | ★ | | | 2007-06-29 | Sydney, AU | 7575 | AARNet | Data |
| msy-us | | ★ | ★ | 2013-10-17 | New Orleans, LA, US | 22773 | Cox Communications Inc. | Data |
| stn-uk | | ★ | ★ | 2013-12-10 | Ipswich, UK | | | Data |
| lex-us | | ★ | ★ | 2013-12-11 | Lexington, KY, US | 10796 | Charter Communications Inc | Data |
| bed2-us | | ★ | ★ | 2013-12-17 | Groton, MA, US | | | Data |
| bed3-us | | ★ | ★ | 2013-12-17 | Lexington, MA, US | 6079 | RCN | Data |
| osl2-no | | ★ | ★ | 2014-02-12 | Oslo, NO | 2119 | Telenor Norge AS | Data |
| muc-de | ★ | ★ | | 2014-02-21 | Munich, DE | 12816 | Leibniz-Rechenzentrum | Data |
| ith-us | | ★ | ★ | 2014-02-22 | Ithaca, NY, US | 11351 | Charter Communications Inc | Data |
| anc-us | ★ | ★ | | 2014-03-14 | Anchorage, AK, US | 8047 | GENERAL COMMUNICATION, INC. | Data |
| kgl-rw | | ★ | | 2014-03-14 | Kigali, RW | | | Data |
| hlz-nz | ★ | | | 2007-11-15 | Hamilton, NZ | 681 | The University of Waikato | Data |
| ams5-nl | ★ | ★ | | 2014-03-14 | Amsterdam, NL | 6830 | Liberty Global B.V. | Data |
| mmx-se | | ★ | ★ | 2014-03-15 | Lund, SE | | | Data |
| bre-de | | ★ | ★ | 2014-03-18 | Bremen, DE | 31334 | Vodafone Kabel Deutschland GmbH | Data |
| bre2-de | | ★ | | 2014-03-19 | Bremen, DE | 680 | Verein zur Foerderung eines Deutschen Forschungsnetzes e.V. | Data |
| mmx2-se | | ★ | | 2014-04-02 | Lund, SE | | | Data |
| nic-cy | | ★ | | 2014-04-02 | Nicosia, CY | | | Data |
| sju-pr | | ★ | | 2014-04-18 | San Juan, PR | | | Data |
| sof-bg | ★ | ★ | | 2014-06-04 | Sofia, BG | 34224 | Neterra Ltd. | Data |
| sof2-bg | | ★ | | 2014-06-12 | Sofia, BG | | | Data |
| yul-ca | | ★ | | 2014-06-13 | Montreal, QC, CA | | | Data |
| lej-de | | | | 2007-11-15 | Leipzig, DE | | | Data |
| wbu2-us | ★ | ★ | ★ | 2014-06-14 | Boulder, CO, US | | | Data |
| kna-cl | | ★ | ★ | 2014-06-18 | Vina del Mar, CL | | | |
| scl2-cl | | ★ | | 2014-06-25 | Santiago, CL | | | Data |
| nce2-fr | | ★ | | 2014-09-17 | Biot, FR | | | Data |
| blr-in | | ★ | ★ | 2014-09-18 | Bangaluru, IN | | | |
| wvi-us | | ★ | ★ | 2014-09-19 | Santa Cruz, CA, US | 7018 | AT&T Services, Inc. | Data |
| igx2-us | | ★ | ★ | 2014-09-19 | Durham, NC, US | | | Data |
| ylk-ca | ★ | ★ | | 2015-03-18 | Barrie, ON, CA | | | Data |
| aza-us | | ★ | ★ | 2015-05-06 | Gilbert, AZ, US | 209 | CenturyLink Communications, LLC | Data |
| bfi-us | ★ | ★ | ★ | 2015-05-27 | Seattle, WA, US | 209 | CenturyLink Communications, LLC | Data |
Archipelago sponsors: