NDN Community Meeting (NDNcomm 2015): Architecture, Applications, and Collaboration
The NDN Project will host its second NDN community meeting (NDNcomm) on September 28th-29th 2015, the second in a series of meetings.
We also held a two-day Hackathon the weekend before the meeting, Saturday September 26th and Sunday September 27th.
The community meeting will be livestreamed and archived: YouTube Archived Livestream Day 1 - Day 2
Date: September 28 (Mon) - 29 (Tue), 2015
Place: Little Theater, Macgowan Hall, UCLA Campus, Los Angeles, CA
Named Data Networking: Architecture, Applications, and Collaboration
University of California at Los Angeles hosted the second NDN Community Meeting in the last week of September 2015. This two-day meeting provides an opportunity for the community to exchange research experience and results, to discuss the current state and future directions of the NDN architecture, and to identify remaining issues. We also plan to hold a 2-day hackathon on Saturday and Sunday September 26th-27th, the weekend before the meeting.
Based on community interest and submissions, we are receptive to a variety of forms of participation at this meeting, e.g, technical talks, panels, tutorials, demonstrations, hands-on learning. In order to maximize interaction and dig deeper into selected topics, we will have a series of focused discussion sessions that include a few short talks (10-15 minutes), but leaving lots of time for conversation and debate.
The NDN project uses current and future applications to drive the development and deployment of the architecture and its supporting modules, to test prototype implementations, and to encourage an iterative cycle of hands-on experimentation, evaluation, and design. So, we particularly encourage contributions that consider specific case studies, application requirements, and real-world scenarios.
We are excited to announce the first NDNcomm hackathon at the upcoming community meeting. We welcome participants across all experience levels.
The organizers are reaching out to the community for project suggestions. If you have an idea, please email <ndncomm2015-hackathon@named-data.net>
Project representatives will pitch their ideas to hackathon attendees and act as guides/mentors. We are also planning projects suitable for NDN newcomers. See the Call for Projects Google doc for more information.
Those registered to attend the hackathon should visit the NDNcomm 2015 Hackathon Participant Guide.
Registration closed
Registration is closed.
---
Presenters, submit PDF slides to webmaster at caida.org with permission to link them to the agenda.
All events are in the Macgowan Hall Little Theater except the breakout sessions, which may be held in different locations specified. Presentations will be archived in the day one live stream and day two live stream.
September 26 (Hackathon Saturday)
Freud Playhouse, Macgowan Hall
(Refer to Hackathon Participation Guide for additional details)
09:00 - 10:00 Hackathon Breakfast
10:00 - 10:10 Project Idea Pitches
Form small groups based on interests
Hack
12:30 Lunch
Hack
18:00 Dinner and unwind social event (TBD)
20:00 Close Hackathon Saturday
September 27 (Hackathon Sunday)
Freud Playhouse, Macgowan Hall
09:00 - 10:00 Hackathon Breakfast
Hack
12:30 Lunch
Hack
17:30 - 18:30 Project judging
18:30 - 20:30 Dinner and committee meeting
20:30 - 21:00 Award presentation
21:00 Close Hackathon Sunday
08:00 - 09:00 Breakfast
09:00 - 09:45 Keynote: NDN - Past, Present, Future
09:45 - 10:15 Architecture Achievements
10:15 - 10:45 Data-Centric Security
10:30 - 10:45 Break
10:45 - 11:20 NDN-NP Applications
11:20 - 12:00 Science and NDN
12:00 - 13:00 Working Lunch /

Hackathon Project Demos

13:00 - 14:00 Lightning Talks (5min each advertising for posters/demos)

Routing and Forwarding

New Resource-constrained Environments

Multimedia Support

14:00 - 15:00 Breakout Sessions (in parallel)
15:00 - 15:15 Break
15:15 - 16:45 Breakout Summary Presentations
15:45 - 16:30 Hackathon Results Presentation

Steve DiBenedetto (Colorado State University) and Alex Afanasyev (UCLA), Hackathon Results

16:30 - 18:00 Keynote and Q&A
18:00 - 20:00 Demos / Poster Session /

Reception
08:00 - 09:00 Working Breakfast /

Breakout Sessions

Team-building and writing proposals to support NDN research


Moderator: KC Claffy (UC San Diego/CAIDA)




Breakout Room: Melnitz 1410

NDN startups


Moderator: Patrick Crowley (University of Washington at St. Louis)




Breakout Room: Little Theater

Goals:

Establish a shared understanding of why NDN startups are inevitable
Brainstorm startup directions and opportunities
Discuss ways students in particular can get started

ICN-over-UDP


Moderator: Christian Tschudin (University of Basel)




Breakout Room: Melnitz 1410

09:00 - 10:30 Open Discussion: Questions on Yesterday's Talks, Reflections on Yesterday, Most Interesting Things Learned
10:30 - 10:45 Break
11:00 - 12:00 Industry Lightning Talks (5 min each)


Moderator: Eve Schooler (Intel)

12:00 - 12:15 Testbed Update/Testbed Participants
12:15 - 13:15 Working Lunch /

Discussion

(Different subgroups may meet to discuss open technical issues)

13:15 - 14:15 Industry Panel: How is Industry Using NDN, What are Industry Interests, Consortium


Moderator: Eve Schooler (Intel)

Ralph Droms (Cisco)
Luca Muscariello (Orange Labs/IRT-SystemX)
Borje Ohlman (Ericsson Research)
Ignacio Solis (PARC)
Guo Qiang Wang (Huawei Technologies)
Greg Rutz (CableLabs)

14:15 - 15:00 Wrap-up, review of meeting, final thoughts and feedback for next year
15:00 Adjourn
---
On registration, participants were asked which topics were most important to see coverage of at NDNcomm 2015. Out of 100 responses: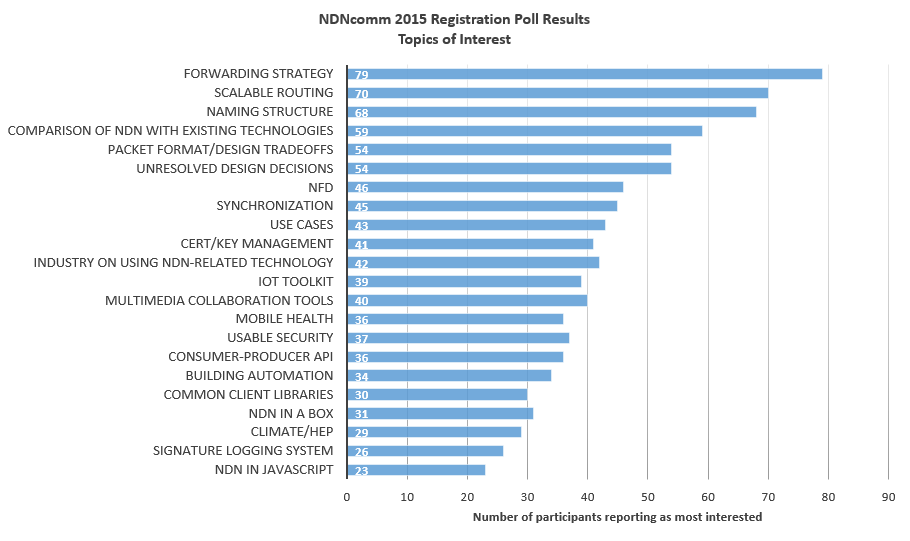 ---
In the days right after NDNcomm 2015, the 2nd ACM Conference on Information-Centric Networking (ICN 2015) will be taking place in San Francisco, CA. Several NDNcomm participants will be heading to ACM ICN 2015. Registration information can be found on the ICN website.
---
Program Committee
Co-Chair: Jeff Burke (UCLA REMAP)
Co-Chair: kc claffy (UC San Diego/CAIDA)
Patrick Crowley (Washington State University in St. Louis)
Christos Papadopoulos (Colorado State University)
Eiichi Muramoto (Panasonic R&D)
Tamer Refaei (The MITRE Corporation)
Eve Schooler (Intel)
Lan Wang (University of Memphis)
Lixia Zhang (UCLA)
Steve DiBenedetto (Colorado State University)
Jeff Thompson (UCLA REMAP)
Alexander Afanasyev (UCLA)
Vince Lehman (University of Memphis)
---
Travel support is available for full-time students attending the NDN Community Meeting (NDNComm 2015) and NDN Hackathon. Funds for these travel grants are provided by the NDN Consortium.
Travel Grant Application
Grants are available only for full-time students registered for the meeting. Minority and women students from diverse institutions are particularly encouraged to apply. Preference will be given to those presenting at the meeting. To apply and compete for a travel grant, the student applicant should email the following to ndn-registration@caida.org:
The applying student's curriculum vitae (CV)
An application letter which should include:

A brief summary of the student research interests and accomplishments to date
A statement about why the NDNComm attendance is important to the student
An estimate of the following costs of attending NDNComm: airfare, hotel and meals. It is anticipated that travel grants will partially cover these costs of attendance.
A statement of whether the student has registered for the meeting and proposed to present a paper, poster, etc. in the registration form.

A recommendation letter from the advisor of the student applicant is also required. The letter should provide the following:

A confirmation that the student is a bona fide Ph.D. candidate or a M.Sc./B.Sc. student in good academic standing at the given institution.
An indication about how the student applicant would benefit from attending NDNComm.
A statement of financial commitment to pay the remainder of the student applicants' travel cost not covered by the grant.

The advisor's letter should be emailed to ndn-registration@caida.org.
Important Dates for travel support
Travel Grant Application Submission Deadline: August 21, 2015
Travel Grant Award Notification: August 28, 2015
Deadline to Accept/Decline Travel Grant Award: September 4, 2015
---
Meeting Room


The meeting will be held in Little Theater in Macgowan Hall on the UCLA campus. The UCLA website provides

directions to Macgowan Hall

from the east entrance of campus, and a

UCLA Campus Map

shows Little Theater and its surroundings.

Street Address / Taxi Dropoff


The address of Macgowan Hall for GPS and taxi dropoff is

245 Charles E Young Drive East, Los Angeles, California 90095

.

Self Parking


Parking Structure 3 on Charles E. Young Dr East is closest to Macgowan Hall and the Little Theater. The standard parking fee is $12 for an all-day pass, from the

pay stations

in the parking structure.

Airport Shuttle

Recommended Accomodations

International Visitors

: Visa Letter of Invitation

Please be aware that in order to attend NDNcomm 2015 you may need a visa to enter the United States. Attendees are responsible for attaining their own visas, but we can assist by providing a letter of invitation if your local consular office requires it.
For transportation concerns, general questions and help, contact ndn-registration@caida.org
Support for NDNcomm 2015
NDNcomm 2015 is supported by the contributions of industry members of the Named Data Networking Consortium, including Alcatel-Lucent, Brocade, Cisco Systems, Fujitsu Laboratories of America, Huawei Technologies, Intel Corporation, Juniper Networks, Panasonic Corporation, Verisign, Inc., ViaSat. Local arrangements are in cooperation with the UCLA School of Theater, Film and Television, UCLA Network Operations Center, and UCLA Internet Research Laboratory. NDN research is partially supported by the National Science Foundation (Award CNS-1345318 and others).