---
Dates: March 31 (Tue) - April 2 (Thu), 2015
Place: Auditorium B210E/B211E Meeting Room,
San Diego Supercomputer Center, UC San Diego Campus, La Jolla, CA
For information on Local Arrangements / Getting to UC San Diego, see the bottom of this document.
Program
We would like to structure this workshop around how the Archipelago Measurement Infrastructure (Ark) can (or is) supporting studies of Internet security and stability, vulnerabilities, scientific topology modeling and mapping, Internet architecture and evolution, and others. This workshop will serve as a forum for a researchers to provide feedback on what measurements, capabilities, data formats, and curation functionalities would be most helpful to answer specific research questions. We can then customize and enhance Ark measurements, data curation, and the query interface to support study of those questions.
Key topics to be discussed include:
Increased deployment

additional visibility of network edge
improved AS-level graph
diagnostic measurements of DNS root and top-level
domain services
systematic comparison of traceroute & BGP paths augment Bismark
quantifying the presence of MPLS tunnels
network fingerprinting based on router signatures

Measurements on-demand

expanded flexibility to run custom experiments
analyze causes of large-scale BGP routing events
targeted measurements for BGP hijacks
developing user-defined measurement functionality
support Reverse traceroutes
close to real time alias resolution measurements

IPv4/IPv6 transition

studying middleboxes
IPv6 deployment
tools for detection & performance assessment of CGN

Censorship/outages

circumvention techniques
censorship studies
monitoring for outages

CongestionA sequence of commands recorded to a register (this tip).

use ITDK and MIDAR for congestion studies

Geolocation

study of geographic paths
improved geolocation of core router infrastructure

Tools

deploy CAIDA measurement tools on Bismark
add Reverse traceroutes to scamper
Python API, ability to run TCP-HICCUPS, real-time
monitor availability status

Using curated data sets (discuss what curations are desired)
Educational use

easy access, visualization
hands-on experimentation
web interface, simplified data products
studying network protocols

Specific studies/needs

security incidents in misconfigured networks (spoofer)
IPv6 topology discovery geolocation
network availability measurements
spoofer
high-frequency topology characterization
tracking IPv4 to IPv6 transition
investigating the accuracy of routing models studying IXPs interconnectivity
---
Agenda
To generate discussion and to orient other participants to your talk, please send a URL or a PDF to webmaster@caida.org of something you'd like the audience to have read before your talk. This can be any of:
a related URL that inspires your research
a related URL detailing your research
a URL related to your talk that you consider worth other participants' time to look over
a recent blog entry or article so people can get an idea of who you are
the actual PDF slideset which you'll be presenting
---
March 31 (Tuesday)
08:00 - 09:00 Breakfast
09:00 - 09:30 Introductions: what we want to get out of the workshops
09:30 - 11:00 Ark infrastructure support
11:00 - 11:30 Break
11:30 - 12:30 Active measurement experiments running on Ark
12:30 - 14:00 Lunch
14:00 - 15:45 Active measurement of interdomain congestion
15:45 - 16:00 Break
16:00 - 17:30 Topology Mapping research and Geolocation support
17:30 - 18:00 Detecting and Characterizing Internet Traffic Interception
18:00 - 20:00 Dinner

---

08:00 - 09:00 Breakfast
09:00 - 10:00 Interaction: What did I learn from day 1
10:00 - 12:30 Activities on Other collaborative projects
12:30 - 14:00 Lunch
14:00 - 15:00 Group Discussion: how researchers would like to see measurement platforms working together (what functionality, interface)
15:00 - 16:00 Proposals to use Ark-generated data
16:00 - 16:30 Break
16:30 - 17:30 Active measurement experiments
17:30 - 18:30 Open discussion
18:30 - 20:00 Dinner

---

April 2 (Thursday)

08:00 - 09:00 Breakfast
09:00 - 10:40 Using multiple measurement platforms together
10:40 - 11:00 Break
11:00 - 12:30
12:30 - 14:00 Lunch
14:00 - 16:00
16:00 - 16:30 Break
16:30 - 17:00 Results of Working Groups
17:00 - 17:30

Discussion

How can we justify/incentivize Internet measurement?
How can Ark further enable research?
What is the most interesting thing I learned?
What active measurement experiment do I want (me or some else) to do?
What is the most important stuff for moving forward on some challenge discussed at the workshop?

17:30 Adjourn and fill out survey
---
Local Arrangements / Getting to UC San Diego
For this workshop, attendees are expected to make their own hotel reservations and transportation arrangements from their hotels to the workshop. For CAIDA's list of local hotels including shuttle availability, see the updated Local Hotels list (PDF). Contact the hotel directly for hotel shuttle schedules (if available) to the San Diego Supercomputer Center (SDSC).
This workshop is being held in the SDSC East Auditorium (Room B210E/B211E) that faces Hopkins Drive.
(For those GPS-enabled attendees, the GPS coordinates near the SDSC Auditorium is WGS84: 32°53'03.77"N, 117°14'20.31"W)
Campus map for AIMS workshop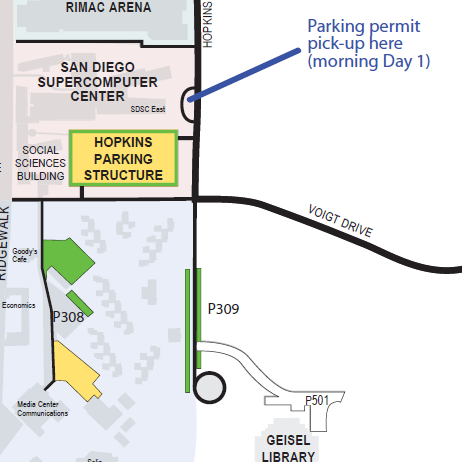 SDSC Auditorium Street View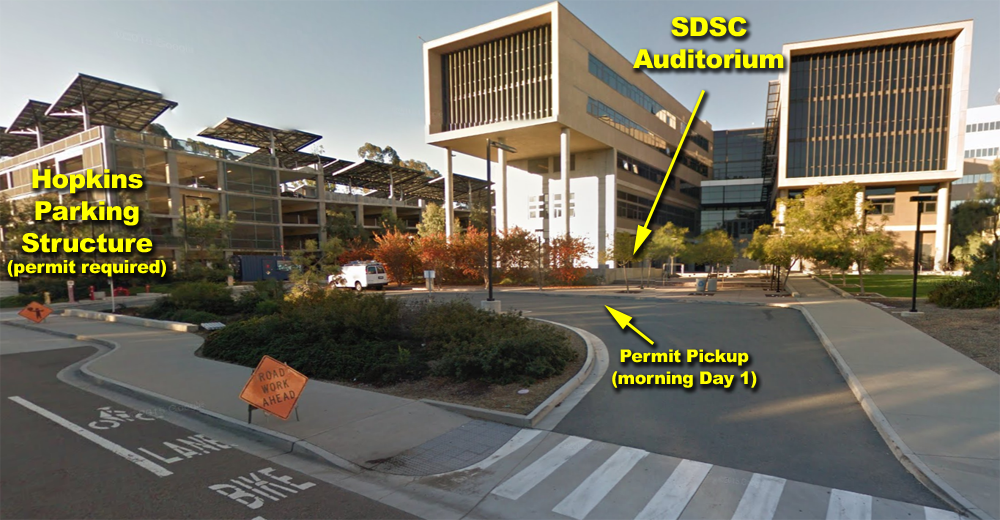 General driving directions to SDSC are located on the CAIDA Contact and Visitor Info page.
Parking on campus


The most convenient parking is in the Hopkins parking structure at Hopkins Dr and Voigt Dr, just south of SDSC.

Parking Permits: Parking permits are required to park on UC San Diego Campus. On arrival to campus on the morning of Day 1 from 8:00-9:00 before the workshop starts, check in with a CAIDA staff member at the driveway loop in front of the SDSC building on Hopkins Drive. We will give you a parking permit for the day, and then point you to the Hopkins Parking Structure for parking. For late arrivals, parking permits are sold at the kiosks in the structure for $16/day.

Parking permits for subsequent days will be provided at the end of Day 1, just prior to the Reception.

After picking up your parking permit, it is recommended you go to the Hopkins Parking Structure next to SDSC and park on the lower levels. Walk back to the street-side of the parking garage (level 2), and along the street to the SDSC East building. The auditorium is on the left just before the stairs, labeled Auditorium or B210E/B211E Meeting Room.
The AIMS 2015 workshop will be held in the SDSC Auditorium.
For transportation concerns, general questions and help before the workshop, contact Cindy Wong at <cindy at caida.org>.
General UC San Diego Maps and general UC San Diego Visitor Parking information are useful resources for navigating on campus.
Sponsors
Funding for this event is provided by the National Science Foundation and the U.S. Department of Homeland Security Science and Technology Directorate.