---
Dates: March 13 (Tue) - 15 (Thu), 2018
Place: Auditorium B210E/B211E Meeting Room,
San Diego Supercomputer Center, UC San Diego Campus, La Jolla, CA
For information on Local Arrangements / Getting to UC San Diego, see the bottom of this document.
Program
All participants are expected to prepare a talk or presentation. Please submit an extended abstract related to one of the topics below with your registration, no later than January 20. We will evaluate the abstracts and notify the authors about acceptance by January 31. Accepted abstracts will be posted publicly on the workshop page.
This year the focus of the workshop again will be on interaction and coordination between different existing measurement infrastructures. Topics of interest for the agenda include (but are not limited to) the following:
Measurements that can address current or future public policy needs

how to have impact in broader, non-technical communities (is new conference needed?)
how to make technical results for relevant and accessible
surveys of which studies have already had impact
CAIDA's new PANDA project proposal
how to measure progress toward societal aspirations for the Internet

Infrastructure sharing

complementary measurements on different platforms
unified interface to traceroute platforms
incentives to participate in measurement infrastructure
cross-validation of results

Infrastructure development issues

back-end databases to store measurement results
front-end querying interfaces
"measurement-as-a-service" support
ability to develop and run custom experiments

Data access and sharing

how applications can make use of measurement data
concurrent measurements of interesting events
cross-platform longitudinal data analysis
educational use of measurements and data

Future measurement infrastructure architectures

resolving tensions between openness and security of measurement platforms
the role of measurement in a larger framework for ISP information disclosure

Innovation in scientific discourse to promote reproducibility

Presentations of lab notebooks, e.g., Jupyter, as a mode of publishing paper supplements
Proposed workshops that require all papers published with "lab notebook" supplements and code required to reproduce the work
Peer-review: public vs private; anonymous vs unanonymous reviews; rating systems
Additionally, we intend to devote some time to reviewing the recommendations distilled from the discussions at the previous nine AIMS workshops (2009-2017). These recommendations (published in 2016's AIMS workshop report) deal with the following five common themes:
Data and infrastructure building blocks
Promoting synergies among industry, government, researchers, vendors, Internet service providers
Path measurement research
Quality of experience measurement research
Network architecture research
We will look back to assess the measurable progress achieved in each area and will propose the next steps forward continuing the advancement of Internet measurements.
The workshop will run for 3 days (starting from Tuesday morning) with ample time for interactions between participants, breakout sessions, and collaborative discussions.
---
Agenda
Participants will have 10-15 minutes to present and 5-10 minutes for questions. To prepare other participants for your presentation, and to maximize discussion rather than presentation time, please send a URL or a PDF to webmaster@caida.org of something you'd like the audience to have read before your talk. This can be any of:
a related URL that inspires your research
a related URL detailing your research
a URL related to your talk that you consider worth other participants' time to look over
a recent blog entry or article so people can get an idea of who you are
the actual PDF slideset which you'll be presenting
---
March 13 (Tuesday)
08:00 - 09:00 Breakfast
09:00 - 10:00 Round table introductions: What do I want to get out of this
10:00 - 12:15 Measurement systems: updates and new approaches
12:15 - 14:00 Lunch
14:00 - 15:20 Policy
15:20 - 15:45 Break
15:45 - 17:30 Performance
17:30 - 20:00 Dinner reception on site
---
08:00 - 09:00 Breakfast
09:00 - 10:00 Interaction: What did I learn from day 1
10:00 - 12:30 Traceroute data: measurements and interpretations
12:30 - 14:00 Lunch
14:00 - 17:45 Measurement systems: updates and new approaches, continued
17:45 - 20:00 Dinner reception on site
---
March 15 (Thursday)
08:00 - 09:00 Breakfast
09:00 - 10:00 Interaction: What did I learn from day 2
10:00 - 12:45 Security and Stability
12:45 - 14:00 Lunch
14:00 Adjourn and fill out survey
---
Local Arrangements / Getting to UC San Diego
For this workshop, attendees are expected to make their own hotel reservations and transportation arrangements from their hotels to the workshop. For CAIDA's list of local hotels including shuttle availability, see the updated Local Hotels list (PDF). Contact the hotel directly for hotel shuttle schedules (if available) to the San Diego Supercomputer Center (SDSC).
This workshop is being held in the SDSC East Auditorium (Room B210E/B211E) that faces Hopkins Drive.
(For those GPS-enabled attendees, the GPS coordinates near the SDSC Auditorium is WGS84: 32°53'03.77"N, 117°14'20.31"W)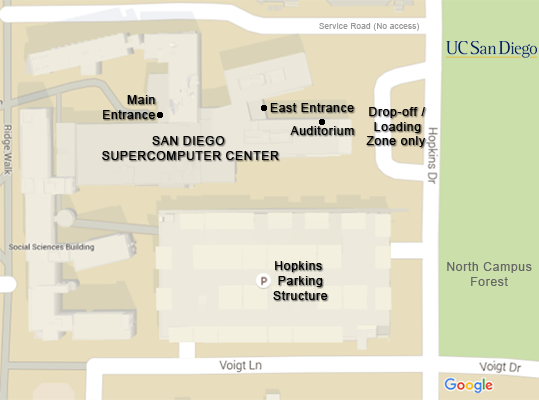 SDSC Entrances
and
Campus parking map
SDSC Auditorium Street View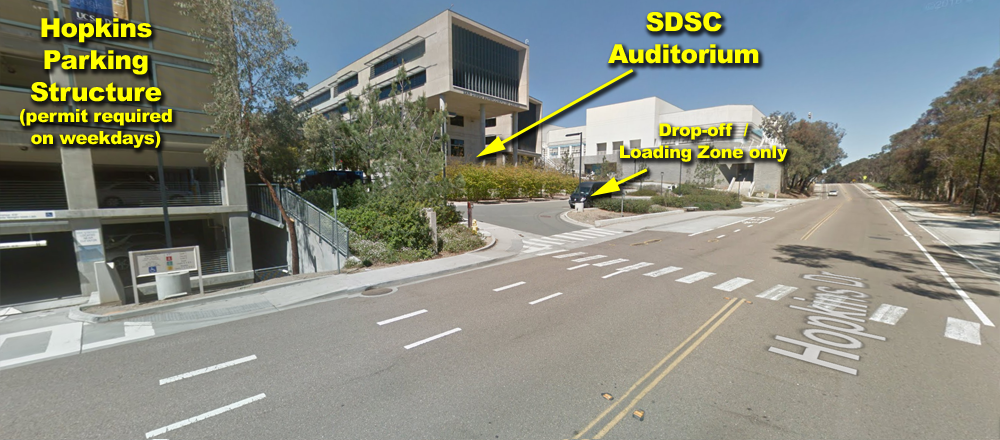 General driving directions to SDSC are located on the CAIDA Contact and Visitor Info page.
Shuttle to Hotels: SuperShuttle can be arranged to shuttle to UC San Diego campus or your hotel.
Taxis and drop-off: San Diego Taxi Information maintains a list of taxis with rates and additional information. Uber and Lyft are also well established in San Diego and now have access to service San Diego's airport. GPSes will need to go to the intersection of Hopkins Drive and Voigt Lane.

9836 Hopkins Drive , La Jolla, CA 92093 is the nearest street address most GPSes/maps recognize.

Car: Rental available at the airport near the baggage claim areas of Terminals 1 and 2.
Parking on campus


The most convenient parking is in the Hopkins parking structure at Hopkins Dr and Voigt Dr, just south of SDSC.

Parking Permits: Parking permits are required to park on UC San Diego Campus.

Parking legally is the attendee's responsibility. It is recommended you go to the Hopkins Parking Structure next to SDSC. Near the elevators will be a parking permit machine that will sell passes for $20/day. With a permit purchased in the Hopkins structure, you can park in any White " V ", Yellow " S ", or Green " B " spaces unless otherwise indicated. Please be sure to read the directions on the parking permit. Parking is limited. The penalty for an improperly parked car is at least $65 per day. We cannot be held responsible for citations issued for parking in an incorrect space or improperly displaying your permit.
For transportation concerns, general questions and help before the workshop, contact Cindy Wong at <cindy at caida.org>.
General UC San Diego Maps and general UC San Diego Visitor Parking information are useful resources for navigating on campus.
Sponsors
Funding for this event is provided by the National Science Foundation and the U.S. Department of Homeland Security Science and Technology Directorate.