AIMS 2016: Workshop on Active Internet Measurements
CAIDA continues hosting the annual "Active Internet Measurement Systems" (AIMS) workshops to promote discussion between academics, industry, policymakers, and funding agencies on active Internet measurement, and exchange of research ideas and questions that have been answered, or could be answered with proposed measurement infrastructures.
From February 10-12, 2016, CAIDA will host the 8th workshop on Active Internet Measurements (AIMS 2016) on the UC San Diego campus in La Jolla, CA.
AIMS 2016 is by invitation only. We have received an overwhelming response of registrants interested in attending, but as seats are limited, we have reached capacity and are no longer accepting new registrations.
Dates: February 10 (Wed) - 12 (Fri), 2016
Place: Auditorium B210E/B211E Meeting Room,
San Diego Supercomputer Center, UC San Diego Campus, La Jolla, CA
For information on Local Arrangements / Getting to UC San Diego, see the bottom of this document.
Program
This year the focus of the workshop will be on interaction and coordination between different existing measurement infrastructures. Topics of interest for the agenda include (but are not limited to) the following:
Infrastructure sharing

complementary measurements on different platforms
unified interface to traceroute platforms

Infrastructure development issues

"measurement-as-a-service" support
back-end databases to store measurement results
challenges specific to measuring high bandwidth access links/paths
incentives to participate in measurement infrastructure

Data access and sharing

how applications can make use of measurement data
concurrent measurements of interesting events
cross-platform longitudinal data analysis
educational use of measurements and data

Experimental design

designating a common measurement set
measuring quality of experience using existing software or hardware infrastructure
ability to develop and run custom experiments
cross-validation of results

Future measurement infrastructure architectures

resolving tensions between openness and security of measurement platforms
front-end querying interfaces
the role of measurement in a larger framework for ISP information disclosure
Depending on submitted abstracts, the topics covered will be pared down. We may split the time into:
(1) general approaches to combining different infrastructures
(2) how different parts of the ecosystem (application developers, ISPs) can benefit from a combined effort.
The workshop will run for 2.5 days (half day starting from Wednesday afternoon, two full days Thursday and Friday) with ample time for interactions between participants, breakout sessions, and collaborative discussions.
---
Weekend before AIMS: BGP Hackathon
CAIDA, in cooperation with CSU, USC, FORTH, Route Views, RIPE NCC, is organizing a BGP Hackathon to be held on the 6-7th of February 2016 at UCSD, the weekend before the AIMS workshop. The theme of the hackathon is live BGP measurements and monitoring. We will provide the participating teams data and a toolbox which include access to live streaming BGP data, the new BGPMon interface, BGP processing tools and APIs, the PEERING testbed, visualization tools, and data-plane active measurement platforms.
How to contribute:
join us and come over to hack!
help teams as a domain expert
propose projects that hacking teams may pick
offer to join the jury that will assign awards
Email bgp-hackathon-info@caida.org for information.
---
Participants have 10 minutes to present, and 10 minutes for discussion.
To generate discussion and to orient other participants to your talk, please send a URL or a PDF to webmaster@caida.org of something you'd like the audience to have read before your talk. This can be any of:
a related URL that inspires your research
a related URL detailing your research
a URL related to your talk that you consider worth other participants' time to look over
a recent blog entry or article so people can get an idea of who you are
the actual PDF slideset which you'll be presenting
---
February 10 (Wednesday)
08:00 - 09:00 Breakfast
09:00 - 10:20 Informal pre-meeting discussions
10:20 - 15:40 Measurement Infrastructure Development Updates
15:40 - 16:00 Break
16:00 - 17:00 Data Access and Sharing
17:00 - 18:00 Open discussion
18:00 - 20:00 Dinner reception on site
---
February 11 (Thursday)
08:00 - 09:00 Breakfast
09:00 - 10:00 Interaction: What did I learn from day 1
10:00 - 10:40 DNS: Platforms, Experimental design, data
10:40 - 11:00 Break
11:00 - 15:40 QoE: Platforms, Experimental design, data
15:40 - 16:00 Break
16:00 - 17:40 Systems integration of multiple types of measurement
17:40 - 18:30 Open discussion
18:30 Dinner break
---
February 12 (Friday)
08:00 - 09:00 Breakfast
09:00 - 10:00 Interaction: What did I learn from day 2
10:00 - 12:20 Some IP addresses are more equal than others
12:20 - 14:00 Lunch
14:00 - 15:00 Future measurement infrastructure architectures
15:00 - 15:15 BGP Hackathon report
15:15 - 17:00 Open discussion
17:00 Adjourn and fill out survey
---
For this workshop, attendees are expected to make their own hotel reservations and transportation arrangements from their hotels to the workshop. For CAIDA's list of local hotels including shuttle availability, see the updated Local Hotels list (PDF). Contact the hotel directly for hotel shuttle schedules (if available) to the San Diego Supercomputer Center (SDSC).
This workshop is being held in the SDSC East Auditorium (Room B210E/B211E) that faces Hopkins Drive.
(For those GPS-enabled attendees, the GPS coordinates near the SDSC Auditorium is WGS84: 32°53'03.77"N, 117°14'20.31"W)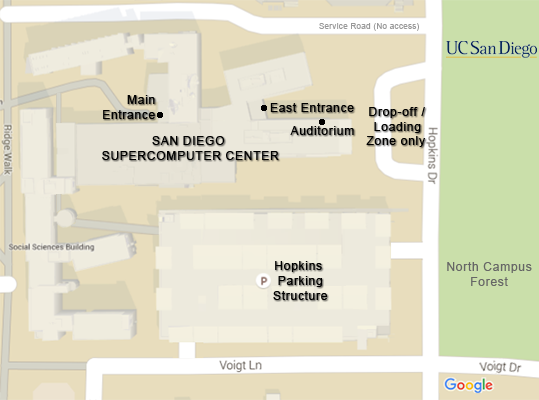 SDSC Entrances
and
Campus parking map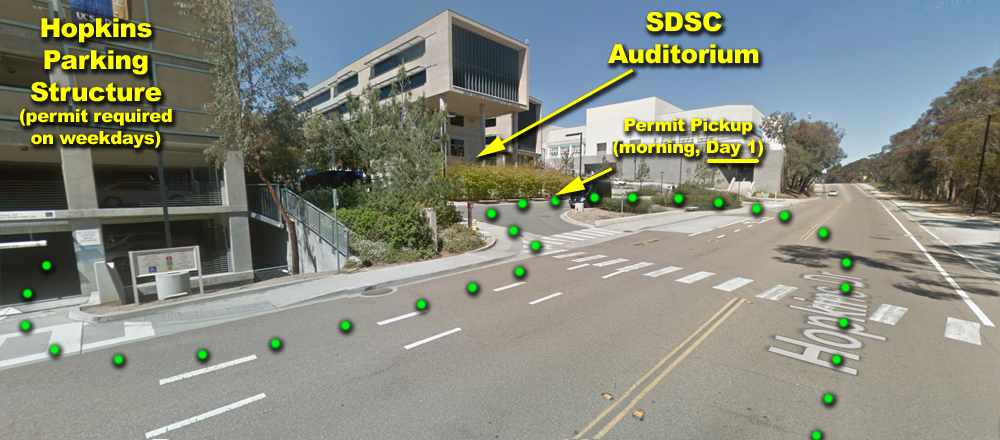 SDSC Auditorium Street View
General driving directions to SDSC are located on the CAIDA Contact and Visitor Info page.
Shuttle to Hotels: SuperShuttle can be arranged to shuttle to UC San Diego campus or your hotel.
Taxis: San Diego Taxi Information maintains a list of taxis with rates and additional information. Uber is also well established in San Diego and now has access to service San Diego's airport. GPSes will need to go to the intersection of Hopkins Drive and Voigt Lane. The nearest street address is 10100 Hopkins Drive, La Jolla, CA 92093.
Car: Rental available at the airport near the baggage claim areas of Terminals 1 and 2. To park on campus, see Parking on Campus section, below.
Parking on campus


The most convenient parking is in the Hopkins parking structure at Hopkins Dr and Voigt Dr, just south of SDSC.

Parking Permits: Parking permits are required to park on UC San Diego Campus. On arrival to campus on the morning of Day 1 from 8am-9am, check in with a CAIDA staff member at the driveway loop in front of the SDSC building on Hopkins Drive. Tell them that you are here for AIMS, and we will give you a parking permit for the day, and then point you to the Hopkins Parking Structure for parking. If no one is there, park in the 5 minute zone, head into the Auditorium to get a permit first. Otherwise, parking permits are sold at the kiosks in the structure for $16/day.

Parking permits for subsequent days will be provided at the end of Day 1, just prior to the Reception.

After picking up your parking permit, it is recommended you go to the Hopkins Parking Structure next to SDSC and park on the lower levels. Walk back to the street-side of the parking garage (level 2), and along the street to the SDSC East building. The auditorium is on the left just before the stairs, labeled Auditorium or B210E/B211E Meeting Room.
For transportation concerns, general questions and help before the workshop, contact Cindy Wong at <cindy at caida.org>.
General UC San Diego Maps and general UC San Diego Visitor Parking information are useful resources for navigating on campus.
Sponsors
Funding for this event is provided by the National Science Foundation and the U.S. Department of Homeland Security Science and Technology Directorate.